Mark James Martinez Angeles '15 graduated in chemistry barely 2 weeks ago. His thesis title: "Synthesis of Cobalt, Rhodium, and Iridium Acetyl(imino)pyridine Compounds for the Reductive Dehalogenation of Chlorinated Ethylenes" (advisor Prof. Sarah Kliegman).
Just yesterday, while riding his bicycle westbound through the intersection of SE Gladstone and SE Cesar Chavez, Mark was struck by an eastbound tow truck that was making a left turn on Cesar Chavez. He was wearing a bike helmet, but he died of head injuries from his collision with the larger vehicle. More information about Mark and the collision can be found at Sallyportal blog of the Reed magazine.
Mark was a cherished member of our community, and his graduation was a celebration for everyone concerned: Mark, his family, his professors (especially his research advisers, Sarah Kliegman and Juliane Fry), and his classmates. Mark's family posted this statement about yesterday's tragedy on the Sallyportal blog:
Mark was the best kind of person. He was passionate and driven, but at the same time incredibly loving. He made it his mission every single day to simply love people, in whatever way that looked like. He had eyes that could always see the good in other people, even when all they could see was bad. He was a true and unique light to this world, and he will be sorely missed. Thank you, Mark, for touching lives simply by being yourself.
Our hearts are breaking for their loss and for ours. Mark was, indeed, the best kind of Reedie. He was a powerhouse chemistry student who also brought joy to classmates, faculty, and staff alike. Just seeing Mark walk by with his backpack and trademark stocking cap told one that the world was going to be alright.
Mark, we will carry and treasure your memory. Rest well.
Update, May 28: Eren Veziroglu '16 forwarded this photo of Mark. A beautiful portrait of Mark's lively spirit and his love of bicycles. Thanks, Eren.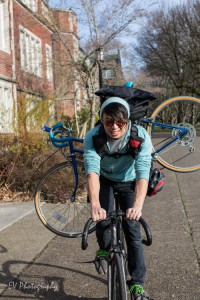 Update, June 2: Friends and classmates of Mark Angeles '15 are organizing a memorial bike ride to honor his memory on Sunday, June 14, at 9 a.m. at the Reed Bike Co-Op. Learn more about Mark, his life at Reed, at A Bike Ride for Mark (Sallyportal blog).