What really makes a coffee shop great? Free wifi is a must. Cheap refills, perhaps? Sufficient table room to spread out your computer and textbook? The availability of "real" food (sandwiches rather than sweet muffins)? In this series we explore shops in SE that most Reed students frequent for social gatherings and focused study time.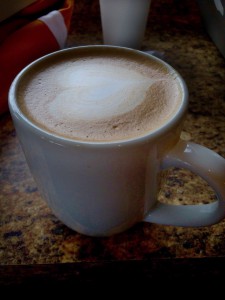 1. First Cup
Distance from Reed: 0.3 miles
Food: Best bagels ever including gluten free. Classic baked goods spread, but not much in the way of good hot food choices. There are some cold options in a fridge.
Drink: Tasty coffee for medium price, fun specials, fridge of cold bottled drinks
Study friendly: There are so many outlets. You will not be wanting for outlets. If it is very full you might get stuck at one of the small tables that can only fit one computer, but with patience you can snag a bigger table if you don't mind moving. It has a covered patio that is super dog friendly.