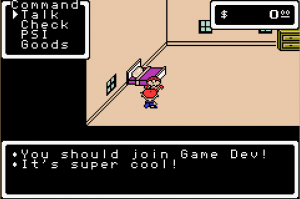 This week, Residence Life is highlighting Game Dev (Game Development), a Theme Community located in Naito/Sullivan, as presented by Theme Coordinator Miles Baker! Residence Life will be accepting Theme and Language Housing applications through Sunday, February 28. To submit an application, please visit housing.reed.edu.
—-
Here at the Game Dev theme community, we pride ourselves on the four F's: fun, friendship, and fantastic games. Well, I guess that was only three F's, but the point still stands: Game Dev is a great place to live if you're interested in the process of making games. No matter what your specific interest, we probably have something for you! There are a lot of different talents involved in game design, so almost everyone can find something that interests them. Are you some kind of super genius programmer? Do you have latent artistic talent? Do you like watching people obey arbitrary rules that you've created? Game Dev might be for you! But it's okay if you don't have any experience with these kinds of things – all you need is an interest in game design and a willingness to learn!
Over the past semester, Game Dev has hosted a dizzying array of events related to game design. We hosted several game jams, with themes ranging from "combine the rules to two different board games" to "witches' brews." We held an instructional session on beginning to build 3D video games using Unity. We even had a conversation with a local game development studio after playing through their game as a community. If you join us, you can look forward to more events like these, as well as whatever other crazy things we may think of!
Anyway, if literally anything I've described above sounds interesting to you, you will probably have a great time in Game Dev. Heck, you will probably have a great time even if everything I just said sounds super boring. You should apply!