It's the annual fall tradition you've all been waiting for!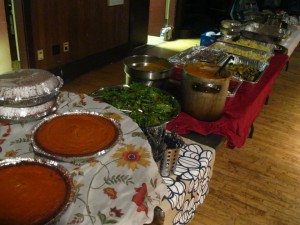 Yes, the "bigthanksgiving feastparty" is happening again. The Co-ops (aka the Farm and Garden Houses) are making lots of food from scratch. There will be meat options, as well as vegan, vegetarian, and gluten-free. (Word on the street is that there will be duck!) There will also be square dancing with a live string band and caller, and a twinkling atmosphere of cozy jollification.
When: November 22nd
More specifically: 7:00pm-9:00pm
Where: SU
WE NEED YOUR HELP TO MAKE IT HAPPEN
Please please please help us cook, set up or clean up and you will have our unending love.
Sign up HERE!
Email hamueller@reed.edu if you have any questions/concerns.