Amidst the connecting and reconnecting of once and future Reed friends, a new element is taking hold at Reunions '12: Reedfayre: career and job-related programming. We are pleased to offer a full panoply of programs for those interested in helping or being helped in the job hunt.
•Advice from Don Asher '83
•Reed Switchboard
•Birds of a Feather
•Reed Career Network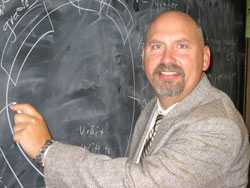 Guidance and advice from the master: Don Asher '83
Reed is fortunate to call Don one of our own. He is the author of numerous best-selling books on subjects relating to getting jobs or getting into grad school. Even the most seasoned professionals will enjoy his informative and helpful presentations.
Saturday, 10 a.m.
Strategies to Gain Admission to Highly Competitive Graduate Programs with Don Asher '83, who, he says, "accidentally wrote the best-selling guide to the graduate admissions process" which was "accidentally" the best-selling guide for 18 straight years (4th ed. in press). PhD, business, law, medicine, pharm.D., rocket science, part-time-PhD-while-you-pursue-your-massively-successful-day-job; whatever your goal, come to this talk on how to get in, get funded, etc.
Saturday, 1:30 p.m.
The Hidden Job Market & Networking with the Rich & Famous, or, How to Tap Anybody, with Don Asher '83, author of 12 books on careers and higher education, including the ground-breaking Cracking the Hidden Job Market and Who Gets Promoted, Who Doesn't & Why (named business book of the year in a national column). More than half the job market is invisible. Whether you are a recent grad trying to get a rung on the ladder, a returning parent with a black hole in your career, an enrollee in a federal witness protection program needing a career change pronto, or a retiree seeking meaningful work on your own terms, this talk is for you. This talk is co-branded and co-sponsored by the Reed College Career Center.
Get connected to the Reed Switchboard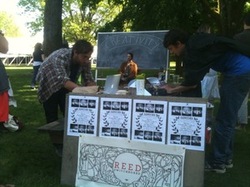 This creative and energetic cohort of young alumni is making news with their novel brand of outreach. This is your chance to get connected and communicate your passions (to actually be photographed in front of a calligraphic pronouncement of your passion!). Switchboard really made an impact with graduating seniors during commencement weekend, and they will turn their attention to alumni during Reedfayre.  Saturday, noon to 5 p.m. For more information, send email to reedswitchboard@gmail.com.
Birds of a Feather
Somewhat strategic, somewhat arbitrarily, we categorized job fields, divided them up, and put a sign on 'em. If you want to connect with folks who work in that job field, here is your chance to mix and mingle. No agenda, really: just connecting people with similar interests.
•Friday, June 1, 3:30-4:30 p.m.: arts & culture, business, and health & wellness
•Saturday, June 2, 11 a.m.-noon: education, journalism & public affairs, and creative services
•Saturday, June 2, 2:30-3:30 p.m.: law, public & social/community services, and science & technology
Help Build the Reed Career Network
Use Reedfayre as an opportunity to strengthen all of your Reed connections. When you join the Reed Career Network (RCN), you join more than 2,100 Reed alumni who share information about themselves in the password-protected, online alumni list. RCN members highlight their areas of expertise, education, and tell a bit of their stories in the profile section so that students and other alumni may learn how one gets from a Reed education to so many amazing destinations. Career Services staff will be on site at Redfayre Central to engage with alumni and to enlist your help in strengthening the network (members of the network get a sticker to identify as such!).