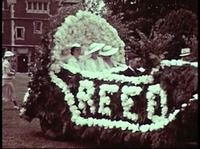 With Reed students' propensity for recombinant construction and conveyance, it is no surprise that the college entered a float in Portland's Rose Festival Parade as early as 1936.  While the details are murky, we have this one photo, as well as this plaque commemorating Reed's third-place "prize" position.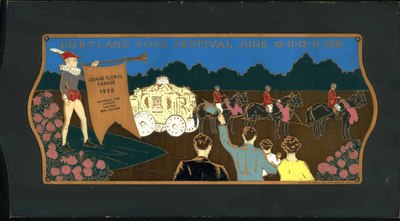 Fast forward to 2012, the close of our centennial year, and a merry band of intrepid engineers is hard at work on an automated griffin for the new century!  Rob Mack '93 and Mike Teskey, director of alumni relations, have led the effort to craft a unique float to roll in Portland's 100th Grand Floral Parade on Saturday, June 9.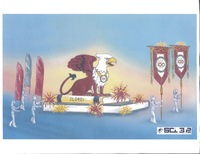 Assisted by Zac Perry, canyon restoration specialist, Ben Lund '93 from mail services, Dan Schafer '92, Martha Richards '92, Lars Fjelstad '92, and other alumni, this group of volunteers has been hammering out the creation over the past several weeks.  See Dan's photos, as well as this artist's rendering that serves as inspiration and imagine a griffin that can flap its wings (and possibly more!).
An early model got a test run at Renn Fayre, delivering the Reed Meat Smoke victuals to the feast!  There is yet more work to be done, and we welcome help from all members of the Reed community.  Stay tuned for a decorating sign-up sheet to be available soon; we'll begin the beautification process at Reunions '12: Reedfayre, so sign up today!