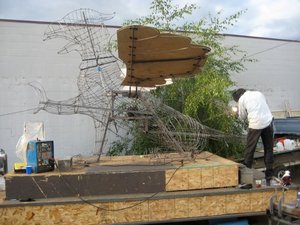 Dearest Comrades:
I have always wanted to write one of these letters, and they're finally letting me! And yes, it has been censored so you will have to use your decoders to get the real message. Reedfayre '12 (the event formally known as Reunions) is upon us, and there is a special treat for all: the griffin float! If you haven't heard already, Reed is entering a float in the Portland Rose Festival's Grand Floral Parade. All of the floats have traditionally been built by one company, but of course as Reedies we wanted to build our own.
I have been privileged to work with the group of "local" Reedies (for whom the apple didn't land far from the tree), and we have been working on it for a while now. It is pretty awesome. The fun never stops! I promise anyone who shows up to lend a hand a ride around campus. There will be fun and games, food and drink, and a late night viewing of Animal House while sitting on the float. The Rose Festival parade is the weekend after Reedfayre, and I would like to encourage everyone to stay the week, help decorate the float with flowers and come cheer or participate in the parade on Saturday, June 9.
It has been a fabulous time building this amazing vehicle, please come back for a ride down memory lane!* I know it is getting close, but if you are at all able to return for Reedfayre, this will be a most memorable experience, I assure you.
Sincerely looking forwards to a fabulous weekend,
–Rob Mack '93
*See one of Rob's earliest conveyances, the MOSPUD, as well as other creations from Renn Fayres past.