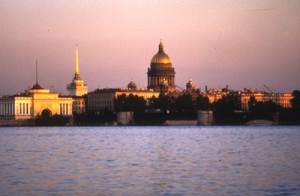 Russia and its Riches: 10th-anniversary tour, May 25-June 9
The Reed College alumni office and Russian department have collaborated on many a trip, and we are pleased to embark on another. We will visit Moscow and St. Petersburg with their extraordinary museums, concert halls, and historical sites, and make overnight trips to the medieval towns of Sergiev Posad, Suzdal, and Vladimir northeast of Moscow, and Novgorod the Great south of St. Petersburg. Besides a carefully designed itinerary of exceptional richness, the program will include presentations on Russian history and culture by the tour leader, former Reed Russian professor Judson Rosengrant, and local specialists.
The tour requires no knowledge of the Russian language and is open to any who would like to learn first hand about Russia and its place in the world. For details (pricing, visas, etc), write to Jud at jrosengrant@earthlink.net or call him at 503/880-9521.
Read this dispatch from Brad '61 and Rozelle Wright '61, who enjoyed the trip this past May, in Reed magazine.