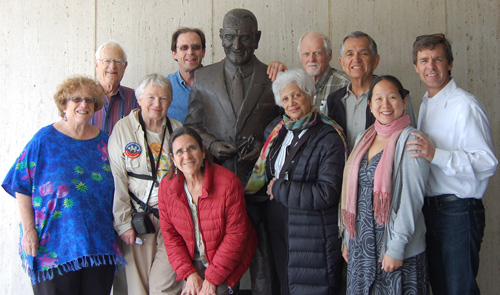 Our travel-study program exists to provide opportunities for alumni, parents, and friends of the college to explore ideas via small-group  travel to domestic and international destinations and to encounter people, places, and issues that serve as an extension of the Reed curriculum.  The overall program strives to achieve a balance in the range of sponsored experiences such that people feel that there is always a program that is accessible to them and aims to bring members of the Reed community together in a way that also supports the mission of the college.
Program opportunities include:
-alumni initiated or led experiences
-faculty or staff initiated or led experiences
-programs initiated or led through third-party vendors on behalf of the college
Select programs will offer a "program-only price."  This represents a way for alumni who already live in the local area and do not require lodging, or who prefer to find cheaper accommodations on their own, to participate in the study experience.
On a case-by-case basis, there may be a day price or a "tag-along" arrangement negotiated.  Members of the Reed community should bear in mind, however, that part of the program's purpose is to support the mission of the college.
If you have a proposal for a program (something you would like to help organize and possibly lead), send email to Mike Teskey, director of alumni & parent relations.  See Mike, next to LBJ, and other Reedies at the Lyndon Baines Johnson Library & Museum in Austin, Texas last April.
************************
The 2014 line up of travel-study programs:
—Raymond Chandler's Los Angeles: March 7-9
—LBJ and the Texas Hill Country: April 3-7
—Russia and the Ukraine, April 26-May 11
—The Danube by River Ship: June 14-25
—Rare Books and Manuscripts from Boston to DC: September 12-16
—Oaxacan Foodways, an Immersion Experience: September 12-21 (date change)
—Flavors of Northern Italy: October 11-19 (date change)
—Art, Music, and Writing in the High Sierras (Fallen Leaf Lake), October 16-19 (date change)
For further information, please contact the alumni relations office: alumni@reed.edu or 503/777-7589.
Descriptions:
March 7-9: Raymond Chandler's Los Angeles
Bungalows. Crime. Hollywood. Blondes. Smog. Death. We'll spend a long weekend designed to accommodate locals and visitors alike. We'll partake in a special themed tour one day. On another day we'll visit a crime lab and learn how forensic scientists do their work. And we'll watch a classic noir film (hopefully in a classic LA theatre). You wouldn't be able to tell, but Chandler would approve.
April 3-7: Path to Power: LBJ and the Texas Hill Country
This long weekend is back by popular demand. We'll start in Austin and experience relevant sites before heading to the culturally and historically fascinating Hill Country. In addition to LBJ lore, we'll enjoy wildflowers, birds, bats, and of course barbeque.
April 26-May 11: Russia and its Riches
The Reed College alumni office and Russian department have collaborated on many a trip, and we are pleased to embark on our eleventh-annual East European tour. This year we will include both Russia and Ukraine in our investigation, visiting the three great capitals of Kiev, Moscow, and St. Petersburg as we review East Slavic history and culture from the tenth century through the modern era.
June 14-25: The Danube by River Ship (Prague/Nuremberg to Budapest)
Discover diversity along the banks of the river that connects more countries than any other in the world. From 1,000-year-old Prague, medieval architecture of Regensburg, history of Melk, enchanting music of Vienna, to the Gypsy violins of Budapest, you'll want to savor every moment of this unforgettable Danube River cruise aboard the 166–foot Avalon Vista.
September 12-15: Rare Books and Manuscripts in and around Washington, DC.

This is a special opportunity to travel with like-minded Reedies who relish the chance to interact with treasured objects and texts from institutions like the Smithsonian, the Library of Congress, and the Folger.  Through our Reed connections we will get a chance to view (and even leaf through), books and manuscripts in a way few people ever get to.
September 12-21: Oaxacan Foodways: an Immersion Experience
Why is food culture so strong in Oaxaca? And what makes it so special? What can Oaxaca teach us about what it takes to have a robust, local food economy? In this tour we'll start answering those questions as we travel to centuries-old farmer's markets, taste food we've probably never tasted before, meet some amazing local cooks and learn about the pre-hispanic diet. Of course there's more, but we wanted to whet your appetite first…
October 11-19: The Flavors of Northern Italy
This amazing program introduces you to Italy in a way few people ever experience. Make a beautiful, historic Italian wine estate outside Verona your base as we explore the region, visiting Verona's Roman Arena and other ancient sites, discovering Italy's cultural connection to farm and table along the way. Touring centuries-old wineries, tasting rare hand made cheeses, and dining in the homes of chefs and producers are just some of the exclusive highlights of this journey.
October 16-19: Art, Music, and Writing in the High Sierras
For those who want to both get away to a spectacularly beautiful setting and to have a hands-on experience honing your skills in areas of drawing, music, or writing, this is a weekend that will fit the bill. Work on your memoir in Steinbeck's cabin. Sketch the landscape around Fallen Leaf Lake. Share some music around a campfire. Most of all, enjoy the camaraderie of fellow Reedies in this gorgeous hideaway.