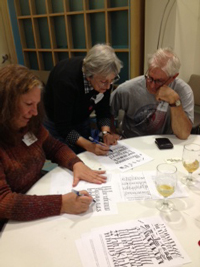 "What do we want the college to be in 20 years?" In this thoughtful spirit, Reed is looking toward the future and working on a strategic plan for its trajectory. Staff, faculty, trustees, alumni, students, parents, and friends are working collectively to formulate the answers, with the goal of identifying priorities by summer 2014 and designing a plan to implement them by July 2015.
The first conversations began in the spring at events in alumni chapter cities; see a summary of collected comments. Over the summer the ad hoc strategic priorities committee* on strategic planning solicited input from faculty, students, staff, and trustees, and it held two public meetings. Working groups of ten each were created consider a nexus of topics and they'll be consulting with members of the community who have requested an opportunity to provide input. Learn more in Reed magazine or on the strategic-planning homepage.
In order to provide additional information, volunteers at Leadership Summit heard a strategic-planning overview that provided background and the framework for continuing discussions. Also, there were several focus-group sessions on the following topics.
2. Supporting student success through community, well-being, and learning
3. Enriching student experiences outside the classroom and providing paths to careers
To review highlights of our live tweeting from a couple of these sessions, search for the "reedstratplan" hashtag on Twitter.
*The ad hoc strategic priorities planning committee includes: John Kroger, chair. Faculty: Mark Burford, Noelwah Netusil, Nigel Nicholson, Kathy Oleson, Sonia Sabnis, Janis Shampay, Paul Silverstein. Staff: Hugh Porter. Student: Ari Galper. Trustee: Peggy Noto '75. Administrative Support: Dawn Thompson