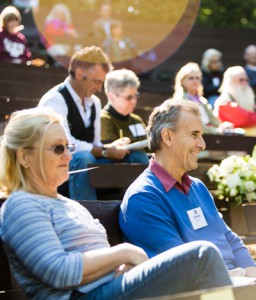 Start off the weekend of Reunions '14: Reedfayre with a special drink, a toast, and some tunes. We hope that Cerf Amphitheatre will be filled with well-wishers as we honor an impressive group of retiring faculty and staff members along with this year's recipients of the Jean L Babson Award.
Some highlights:
Yoram Bauman '95 will serve as our emcee. He bills himself as the world's first and only stand up economist, and he will supply colorful commentary commensurate with the audience's marginal propensity to consume his jokes. Come for the punch, stay for the punchlines.
The group of alumni who have faithfully fed Renn Fayre revelers with tasty smoked turkeys, pigs, and salmon for more than 30 years will be honored with the Jean L. Babson Award for Outstanding Volunteer Service. The membership of the Reed Meat-Smoke Crew has changed (a bit) over the years, but the team has gathered in sun and in rain to dig pits, cut wood, and prepare the meal that is the Renn Fayre feast.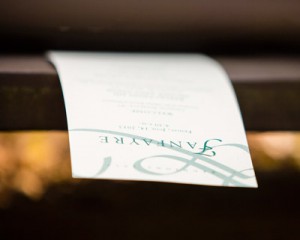 Robert Palladino will be named an honorary alumnus of Reed College. From 1969 to 1984, he kept the art of hand lettering alive at Reed, and in the years in between, he has be a regular guest at calligraphy events. With the return of calligraphy to Reed through the calligraphy initiative, it is appropriate that the alumni association bestow this honor on Robert and thank him for his dedicated service.
And after 41 years of stewarding the college's finances, Ed McFarlane will also be named an honorary alumnus. He was instrumental in helping the college navigate through tough times and today this strong, heathy institution owes him a huge debt of gratitude and thanks.
Five faculty members are retiring this year, and we will honor their years of dedicated service to Reed. We'll raise a glass and sing a song in honor of Kathleen Worley (30+ years), Ron McClard (30 years), Rao Potluri (40 years), and Joe Roberts (62 years).
Join us as we honor these remarkable people and the imprint they have left on Reed College.
Details:
Pre-Fanfayre hosted reception, 4 p.m.
Fanfayre Friday kicks off with a reception back at Camp Reed, aka Cerf Ampitheatre. Sip on the signature cocktail of Plato's Punch (mocktails available as well), enjoy the music of Lauren Sheehan '81, catch up with old friends. Followed by Fanfayre at 4:30 p.m.