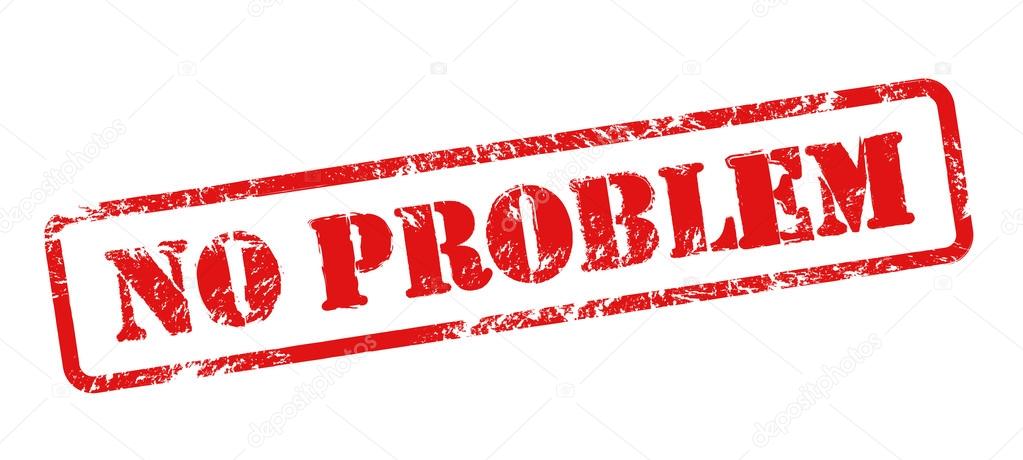 California Secretary of State Alex Padilla has a new mantra for California voters: "no stamp, no problem."
That's great for equity and voter access, but it will be fascinating to see how this changes voter behavior. In California, voters may choose to return ballots to a local precinct place or the county office, in addition to using the mail. How many will continue to use these options when postage is provided? It will be interesting to see how many do so in the next few election cycles, and how this alters ballot processing across the state.
Today's electionline story describes 25 houses in Hamden, CT that have been incorrectly assigned to election districts since the last redistricting cycle in 2011, and have been the wrong ballots. There are charges that voters have been "disenfranchised" though it's unclear whether the ballots were counted for the "wrong" race, or only some races were counted.
The process obviously needs to be investigated, and Secretary of State Denise Merrill is calling not just for a detailed investigation of Hamden's procedures, but a statewide audit when it became clear that there were additional districting errors, including candidates who were elected in districts where they were not residents.
There are a lot of moving parts here and a quick scan of the various stories show an early tendency on the part of journalists to move quickly to use a partisan lens. It appears to be more an accident of unfortunate events that a Democratic registrar in Hamden has been on medical leave during the election, leaving a single person in charge, who happened to be a Republican, and the district was won by a Republican in a relatively close race (though one where the winning margin of 77 votes exceeded the number of voters who were misassigned).
While we will all need to wait to see the outcome of the audit, election scientists have been aware of this mis-mapping problem for a while because of a series of presentations that Dr. Michael McDonald and Dr. Brian Amos have given at our recent conferences.  McDonald and Amos show that mis-assignments are seldom intentional, and most often result from out of date shape files (the geo-spatial files that are used to assign geolocations to larger geographical entities, such as election precincts and districts) and mis-alignments between "street files" (the lists that jurisdictions use to match street addresses to precincts / districts) and the actual geographic boundaries of the district.
There are illustrative examples of these mis-assignments in the paper that McDonald and Amos presented at a the MIT Election Data and Sciences Lab "Election Audits Summit" in December.
I urge interested readers to follow this link to learn more about the great work being done by McDonald and Amos, and how their technology can help to improve election accuracy.
The Texas returns are pretty easy to deal with, because they are reported in one place and the webpage has the results in a well formatted table.
The code below requires that you have tidyverse, rvest, and ggplot2 packages for R installed.
library(tidyverse)

library(rvest)

# Dates to scrape
dates18 <- c("oct22", "oct23", "oct24", "oct25", "oct26", "oct27", "oct28", "oct29", "oct30", "oct31")
dates14 <- c("oct20", "oct21", "oct22", "oct23", "oct24", "oct25", "oct26", "oct27", "oct28", "oct29", "oct30", "oct31")

# Look at the website and see how the columns are set up, create an empty data frame to load the selected dates into and name columns as you like.
I've resisted posting much about early voting totals, but hat tip to Michael McDonald, Dan Smith, and others: these totals are astounding.
Thanks to Paul Manson and the students in Political Science 377 who worked with me on the graphic.
Early voting has been steadily increasing over the past 20 years.
While different data sources come up with slightly different estimates, the Current Population Survey's Voting and Registration Supplement shows that the level of early voting has tripled since 1998 in midterm elections, and has gone up two and half times in presidential years.
If the levels this year are 30% or higher, it will be the most in any midterm. It's unlikely that this year's early voting rate will hit the 2016 level of 39%, but it's possible that we might approach it.
New story in the Washington Post about which states may not have finalized returns on election night. Skip the No Doz go to sleep and wait until morning (or later)!
https://www.washingtonpost.com/graphics/2018/politics/voting-quirks/
The governor's race in Georgia involving the current Secretary of State, Brian Kemp, has highlighted a longstanding concern of many in the election law, election science, and election administration community–electing those public officials who oversee and administer elections. Rick Hasen captures the spirit of these concerns in his quote to Governing magazine:
It is a problem that we have partisan-elected secretaries of state as the chief election officers," says Rick Hasen, a professor of law and political science at the University of California, Irvine.
Of course, this issue is magnified by having the chief elections officer running for higher office, simultaneous with sometimes important–and politically fraught– decisions that have to be made about eligibility for the registration rolls, times and places for early voting, allocation of election machines and poll workers, even potentially decisions about recounts (this latter issue is what caused a controversy in the Republican primary for Kansas governor involving Secretary of State Kris Kobach).
We've been studying voter attitudes about the partisanship of election officials since 2008, and at least as far as the public is concerned, there's really not much of an issue. Less than 1/5th of the public endorses the statement "election officials should be elected by the public, in a partisan contest." About half the public thinks that the election officials should be elected in a partisan contest or appointed.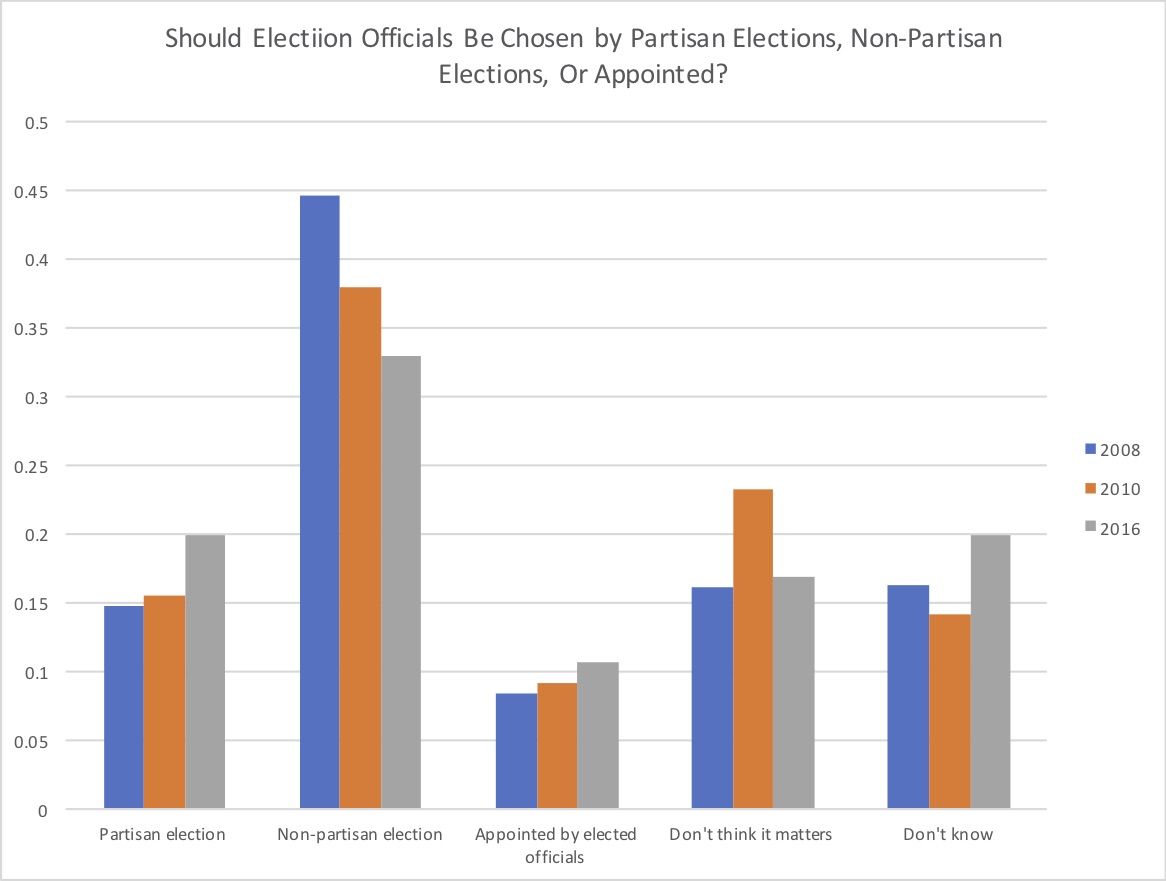 The percentages who endorse an appointive or non-partisan elective method doesn't vary much by party. This is one of the few things that hasn't been caught in the "voting wars" — a plurality of the public thinks that election officials should not themselves be elected.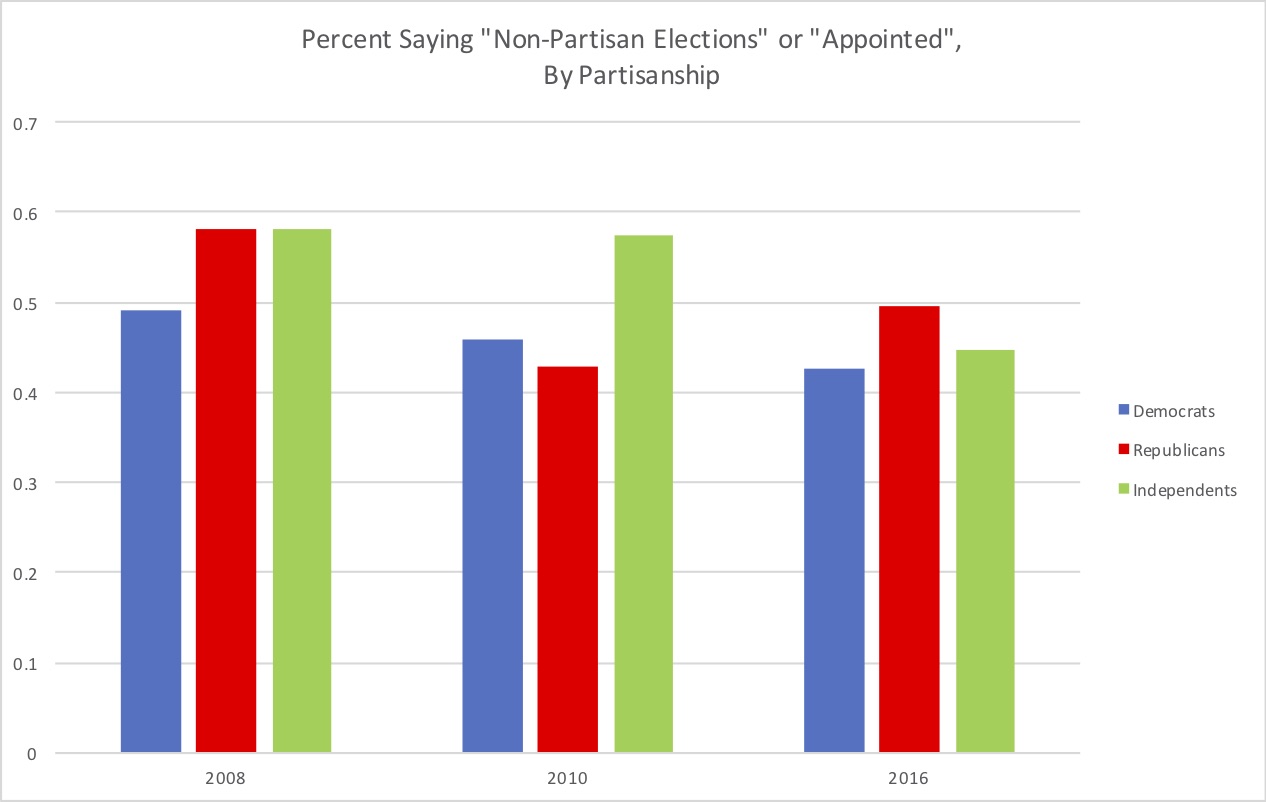 In a new report that I co-authored with Natalie Adona of the Democracy Fund, we made a very similar point about trust and confidence in election officials. There, we showed that election officials enjoy a high level of public trust, nearly comparable to the Supreme Court (when we asked in 2008), and well above more "political" institutions like the executive branch and Congress.
We also warn, however, that (emphasis added):
Election administrators enjoy higher levels of public trust when compared to officials in other public institutions. State and local election officials should continue to enjoy high public approval if they are viewed as nonpartisan experts.
Whether you are a Democrat, Republican, or Independent, and whether you support Brian Kemp or Stacey Abrams, you should be concerned when the integrity of the election system gets caught up in a polarized political environment.
Carroll Doherty of the Pew Center recently argued that, while American support for democracy remains robust, there are some dark clouds on the horizon. If Americans believe that elections are being administered unfairly for partisan motives, these dark clouds can quickly turn into a downpour.