Oregonians finally notice that voting by mail doesn't necessarily mean by mail
Candidate Support by Result Reports, Portland Mayors Race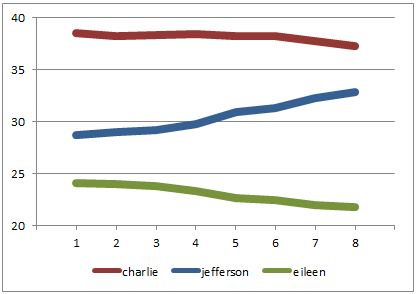 (Graphic courtesy of Kari Chisholm, BlueOregon.com).
I have noted in the past that a substantial percentage of Oregon ballots are hand delivered by voters to county offices or satellite drop boxes on election day.
The state's major paper, the Oregonian, seems to have finally taken note of this trend, likely because in the most recent mayoral contest, the first returns were based primarily on "by mail" ballots while the final returns included ballots dropped off on election day.  The results were quite different.  Early returns indicated that Charlie Hales was ahead by as many as 10 points over Jefferson Smith, while the final returns showed them apart by only 4.4% (37.2% to 32.9%).
Final returns are here and the hour by hour reports are here (scroll down to view reports 1-10).
There has been some local speculation about what this indicates about who supports Smith (young voters?  late deciders?) and how his GOTV operation worked.
What's interesting to me as a scholar of early voting, however, is what this shows about the voting by mail system.  Observers who are less knowledgable about VBM describe the system as if every ballot came through the postal service, but election officials in Oregon, Washington, California, and other states know that a significant number of "by mail" voters still hold their ballot until the end and deliver it "in person" on election day.