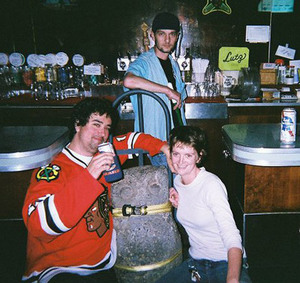 We're pleased to report that the beloved Lutz Tavern is holding a grand reopening tonight, Friday, November 11! When the venerable neighborhood hang-out closed last fall after 57 years, we reported here that the "working-class watering hole with a juke box and a pool table and a clutch of grizzled regulars" would be much missed (in theory, if not practice) by legions of Reedies past and present. Luckily, Mike Rosen '04 and Rosie O'Connor '07 took the Doyle Owl for a farewell visit on closing night (photos by Mike).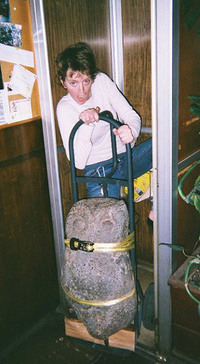 Last week a few of us paid a visit during the "soft launch," and we heartily approve of less Keno and more (not-too-gourmet) grub. The red leather booths and retro phone booth remain, and the midcentury fixtures have been polished. Clinton Street Pub owners Jayson Criswell and Robert Kowalski (also of Crow Bar) are behind this reverent makeover. Indeed, the flyer for tonight's festivities purports that "Your old friend is back with some new clothes."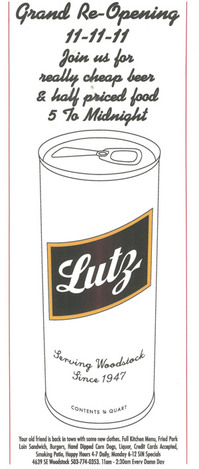 New features include a full kitchen menu, including pork-loin sandwiches, burgers, and hand-dipped corn dogs, as well as a handsome range of liquor offerings. Credit cards are accepted, and there is a smoking patio out back. Tonight's big draw, besides nostalgia, will be cheap beer (yes, PBR is still served) and half-priced food from 5 p.m. to midnight.
Everything has been polished to a shine, though in keeping with the old-school vibe, there is no website to share with you: the bar will be open 11 a.m. to 2:30 a.m. "every damn day," and there are SIN specials on Mondays, 6 p.m. to midnight.
Hope to see you on a bar stool debating the state of the demos one evening soon…