As the Chemistry building continues to get remodeled and renovated (more on that to come), the hallways are undergoing visible changes. Senior photos have been redesigned and hung in more prominent locations (you can even find a set of staff and faculty photos). And 4×6 posters, the story of a summer, or sometimes a years-long, research effort are being displayed in new, more appealing ways.
Posters, it should be said, do more than paper the walls. Before a poster gets hung in the hallway, it has been taken to a scientific conference and presented alongside posters from other researchers in specially designated 'poster sessions' where the posters can number from the dozens to the hundreds. And, no matter what you may think about the value of online media, something as seemingly old-fashioned as a paper poster has become so popular a means of communication that some conferences are entirely devoted to posters.
A case in point: the Portland section of the American Chemical Society is sponsoring its 4th annual Undergraduate Poster Symposium and Career Fair at Portland State University's SRTC building on October 22 (deadline for submissions is Oct. 11), 4-7 pm. There are cash prizes ($150 is the top prize), free pizza and pastries, the chance to show off what you have been doing to Portland's local chemistry community, and to see what others have been doing as well. In fact, it has become the most exciting annual event in the local chemistry research community.
Last year's Undergraduate Poster Symposium featured three posters with Reed students as co-authors:
"Effects of N-terminal disease mutations on HspB1 polydispersity" by Amanda Clouser, Thanh Chu '18, and Prof. Rachel E. Klevit '78, Biochemistry, U. Washington.
"Nickel Pyridinethiolate Complexes for Hydrogen Evolution" by Joshua Tsang '18, Orion Cohen '18 (pictured below with pizza), Carolyn Virca, and Prof. Theresa McCormick, Chemistry, Portland St. U.
"Advances in the Synthesis of Novel SERM AN1: Analysis of Purification Methods" by Prof. Rebecca LaLonde '01, Melinda Serrato '17, Nick Till '16, Rachel Yahn '14, Reed College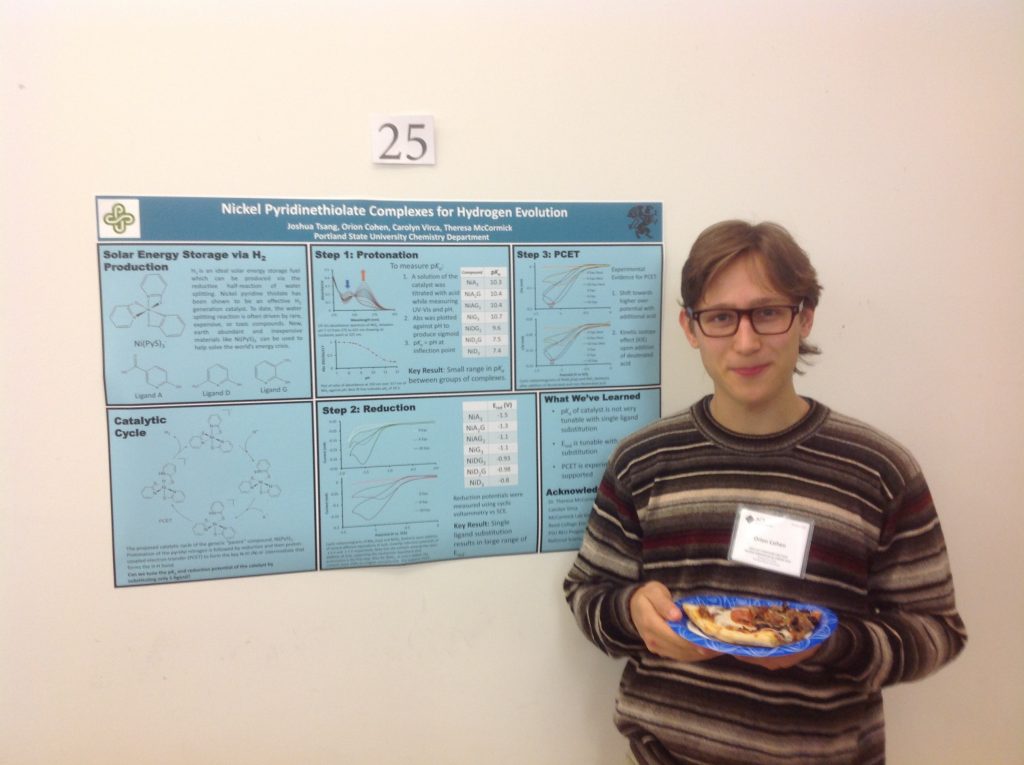 And it should be added that Reed students now routinely travel to share their work. Here's a picture of Thanh Chu '18 explaining the summer project ("Small heat shock protein HspB1: structure and dynamics") she conducted with Prof. Rachel Klevit '78 to other young chemists attending the national meeting of the American Chemical Society held in San Francisco in April, 2017.