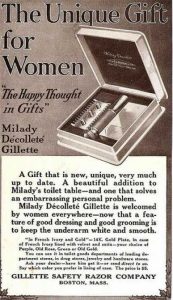 Shaving, with its focus on maintaining secondary sex characteristics and the implicit sexualization of aesthetic-based grooming, has always been an inherently gendered act with inherently gendered advertising. Since women's razors first hit the market in the mid 1910s, the difference in the products themselves has been clear. Women apparently need dainty and beautiful razors that can't harm their sensitive skin, while men's razors are built for strength and durability. Women need to make themselves hairless and beautiful, across an ever increasing area of their bodies; men need to look modern and respectable. Even within ad campaigns directed only at men, though, the sexualization of women is often used as a selling point.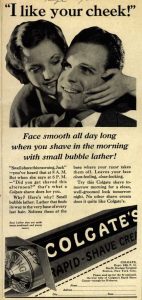 Ads of the 20s and 30s may have taken it as a given that razors were a daily necessity for men, highlighting the easy close shave that specific products could provide, but by the mid 30s it had become clear to advertisers that sex sells, and more and more razors were being marketed with the promise that the smooth face they could provide would earn a man endless affections from his sweetheart. A 1933 Colgate shaving cream ad opens with a cheerful "I like your cheek!" over an image of a woman caressing a well-shaved man's face with her own.
Six years later, an electric razor add insists you "Be Fair to your Face and hers," and "End 'razor-blade-skin' with this bladeless Schick Shaver." Keep your face stubble free, these adds promise, and you'll be kissable again. Use their product, stay in line with the strict gender norms of the day, and you're on your way to the stereotypical heterosexual romance of your dreams.