In 2013, when the brand Schick released this ad campaign in New Zealand, sexualization was still a powerful tool for selling razors. Each of the three print ads display beautiful women, dressed and styled for fancy dates, amid dramatic lighting, adorned with beards that have been photoshopped onto their faces. The tagline, "Would you kiss you?" sits in elegant cursive to the side, highlighting both the sexually charged intimacy of the ad and the forced undesirability of the women involved. The intention is clearly to highlight the undesirability of beards and sell razors to hairy men, implicitly promising them intimacy and sexual desirability if they keep a clean shave, but, in doing so, Schick reinforces gender definitions and roles in an especially binary sense.
Though this is clearly a "sex sells" sort of campaign, it's complicated by the explicit subversion of gender norms through these images. The models, traditionally beautiful and styled to be especially feminine, are made out as grotesque through the addition of masculine characteristics. Makeup and lighting work together to highlight the feminine slopes of cheekbones and noses, dainty and refined, but the beards juxtaposed overtop work to destroy the carefully constructed femininity, and it's unclear how much the image has been altered in the process. In the second image in the series, the blond woman staring into the camera has obviously had her lips reintroduced on top of the photoshopped beard and mustache, making her whole lower face seem especially jarring, and the bottom of her chin (just possible to locate by the overlapping shadows in her beard) is placed slightly lower than the rest of her features would suggest, creating a more masculine jawline even beneath the beard. In the third image, where the model sits at the foot of a plush bed, her face is angled such that the shaping of the beard along her jawline can make it appear especially square, and it appears that her brow bone and forehead was also tweaked to give her subtly more masculine bone structure and a more intensely judgmental gaze. Masculine and feminine attributes are seamlessly merged, within a series of explicitly sexualized settings, creating ambiguity about the genders and sexualities of those portrayed.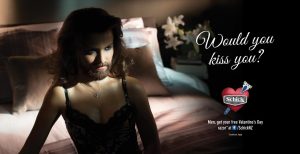 The problem, though, is that this is explicitly done with the goal of eliciting disgust. The goal is to sell razors, to promote an idea that facial hair is inherently undesirable. These are beautiful women and well maintained beards, but in combining the two, they're supposed to create something grotesque and undesirable. It's a "sex sells" campaign, promising intimacy and beautiful women to those who buy and use the product, but the very women depicted are also a threat- if you don't buy the product, you're as undesirable as they are. The underlying assumption is that it's so unbelievable for a women to have facial hair, to even be capable of growing facial hair, that its addition is strange and repulsive. It assumes a purely heterosexual male audience, but it also assumes an entirely cisgender audience, one for whom the idea of a women with traditionally masculine features is already unthinkable. This ad recreates gender norms, but in portraying the result as something unkissable and undesirable, they also strongly reinforce traditional cisgender gender norms and roles. The message is twofold. If you're a man, you must shave in order to get sex. If you're a woman, you must purge yourself of anything vaguely masculine, or else be so undesirable that your very existence is used as a threat. The campaign counts on a pre existing array of gender norms, and by only breaking them as a form of satire and for purpose of rendering the resulting noncomformality undesirable, further enforces those norms.