I was approved via capital equipment request to purchase a 3D printer this year for the fab space.  I haven't yet bought it because we've been using a Makerbot loaned to us for a year by one of our faculty.
It was great to get to use the Makerbot since I'd never done any 3D printing before.  I feel like I have a much better sense of our needs now and am more comfortable choosing the right printer for our applications.
This printer was just released earlier this week and looks like it is the one I'll get.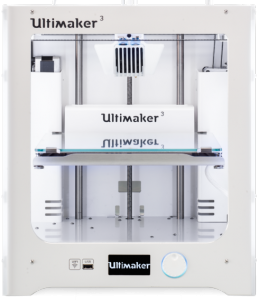 Ultimaker has long been known as a reliable, consistent performer in the high-end consumer grade printer market.  Their new release appears to be targeted even more toward professional use.  It includes some cool new features (like dual extrusion) which, when paired with the reliability of their printers, makes it a great machine for school use.
It's not the highest tech machine out there but it's a good performer with a lot of usable features.  Unless something new appears in the next month or so we should have one here before the end of the term.
Here are some others I'd considered: