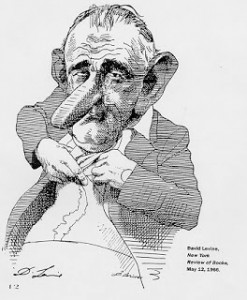 Johnson was not a natural speaker, and biographers report that he was always embarrassed by his Southern drawl, certain that he was not being taken seriously.
The years as vice president were especially difficult in this regard; how could a tall, gangly, drawling Southerner not fail to be overshadowed by an attractive, tanned, charismatic JFK.
However, Johnson's speeches once he became president are impressive.  He softened his drawl, slowed his cadence, and seemed comfortable speaking as leader, not as follower.  That fits his career; Johnson was never comfortable as a subordinate.
The editorial cartoons show Johnson in a much harsher light.  This isn't surprising; by the time cartoonists really started to take on Johnson, his administration was coming under heavy criticism.  And, maybe only rivaled by Nixon, LBJ had a face that provided editorial cartoonists with a lot of canvas to satirize.
Videos and Speeches
Editorial Cartoons