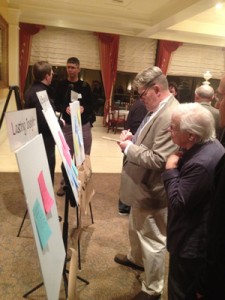 The tour has begun. More than sixty alumni, parents, and friends who attended the Reed on the Road: Campaign Edition event in Seattle welcomed President John R. Kroger last night. After a brief introduction, John accepted clarifying questions and words of advice. For a summary from Randall Barton, roving reporter, including comments by the alumnae panelists, read this post on the Sallyportal blog of Reed magazine.
These are interactive events, and we kindly request that participants read the following article by Louis Menand. As part of the future strategic planning discussions he will be leading, John asked participants to weigh in on three questions.
Posted below each question are the brief comments from some attendees. Now you can expand upon these and add to the discussion (in your comment, please note the numbered question to which you are referring):
1. In the years since Reed, which has proved more important: the subject matter of the courses you took, or learning how to learn? What is your most lasting insight from your time at Reed?
2. In the aftermath of the Great Recession, careers have become a major focus of the alumni board. What, if anything, should the college do to help student transitions to "life beyond Reed"?
3. The faculty recently added an interdisciplinary major in environmental studies. Looking ahead, should Reed's faculty consider modifying the curriculum in any other way? What do you think Reed's curriculum should include or emphasize in the future (for instance: computer science, gender studies, study abroad)?
As our roadshow has gone on, folks have preferred to color outside the lines and create additional topics, so feel free to weigh in below!  Additionally, Mike Teskey, director of alumni & parent relations, has been logging summaries of the sentiments heard around the country, also below.