A Guided Examination of the Art, Infrastructure, and Culture of Holland: Yesterday and Today
April 22-30, 2017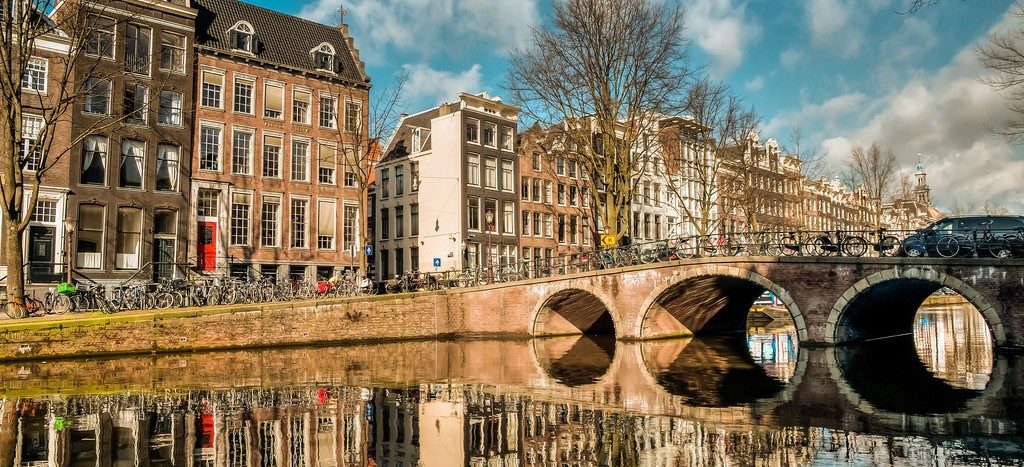 Amsterdam, the capital city of the Netherlands, is famous for its tourist attractions and their accessibility. On this trip, we will toggle between some of the more notable sites to others that often are missed, both in the city of Amsterdam and in its nearby surroundings. The variation on the theme is that we will look at what Simon Schama called "Holland's Embarrassment of Riches" (do read the book in advance, if you can) not from the point of view of the visitor, but rather from the point of view of people who have spent a considerable amount of time living in Holland. Time being scarce, we have only a week to do it, so it will be a full week. In the seven days actually on site, five of them will be spent as a group (three in Amsterdam and two outside) and for the other two days, we will suggest a number of alternatives and assist you in planning your individual excursion.
Saturday, April 22. Departure day. Unless you are doing something in Europe before our week together, you will depart the USA for an overnight flight to Schiphol.
April 22-30, 2017. Welcome to Amsterdam. Most folks will arrive in the morning. Take a train to Amsterdam Centraal Station and then a tram (probably the #2 line) to our (or your) hotel.
• In the late afternoon, we will all take a Canal Boat ride through the city. This is one of those touristy things that just about everybody does, and for good reason. It is a wonderful way to orient yourself to the city and enjoy its unique character.
• Following dinner, we will walk over to the Rembrandsplein for a greeting rijsttafel dinner at Indrapura—one of the best Indonesian restaurants around. Local alumni are invited to join the group for conversation.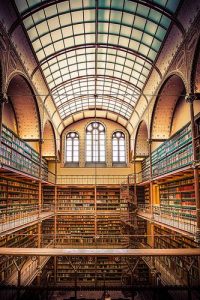 Monday, April 24. Museum day. For our first full day in town, we will examine two marvelous collections. First is the Van Gogh museum, and then after a hosted lunch at a nearby restaurant, we will visit the newly renovated Rijksmuseum. Your evening is free. You can catch up on jet lag, go to a concert or theatre, or check out the coffee shops and bars in neighborhoods close to the hotel or a short tram ride away.
Tuesday, April 25. The Golden Age of Amsterdam. We will go down to Dam Square and visit the Begijnhof (a sheltered place for women who took vows of chastity and charity—but most notably, not poverty—for a sheltered life), the Grote Kerk (main church where royalty is crowned), the Royal Palace, and the Amsterdam Historical Museum. We promise time for a hosted lunch. We will then see the Portuguese Synagogue and Rembrandt's House, a short metro ride from the Dam and Centraal Station area.
Wednesday, April 26. Optional day. Wednesday is your chance for a side trip by yourself or with your besties. We offer a number of possibilities, both in Amsterdam and nearby.
Thursday, April 27. Tulip day. This is a very special day. First, we will take a train to Leiden and from there take shuttle busses to visit the Keukenhof Gardens in Lisse. People wishing to bicycle through the flower fields to and from Keukenhof can rent bicycles at the Leiden train station; the ride is about a half hour each way for casual riders. Lunch in Keukenhof is on your own—the tulip lovers and the orchid lovers and the windmill lovers may well wander off on their own.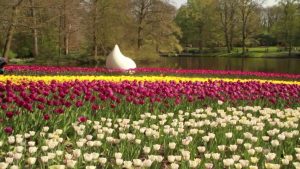 At a designated time, we will regather at the Leiden train station (riding your bicycles or taking the shuttle busses back) and go to the home of Stephan deSpiegeleire (Belgian scholar at the Hague Center for Security Studies who specializes in Eastern Europe) and Zoe Farnsworth (American teacher at the American School of the Hague). We will be joined for this dinner by Dutch people who are conversant with Dutch and European politics, health care, information-technology policy, and who welcome conversations with Reed-type people. That evening, we will take the train (and tram) back to Amsterdam and our hotel.
Friday, April 28. Optional day. Friday, like Wednesday, is your chance to catch that great thing that you wanted to do but was not included in the schedule.
Saturday, April 29. The Zuiderzeemuseum: Fisherfolk 100 Years Ago. The Zuiderzeemuseum in an open-air museum of life in a West Frisian fishing village circa 1900-1910, as well as an indoor museum of ships used from the Golden Age to the present. Enkhuizen, at the northern tip of the province of North Holland, was a major international commercial port hundreds of years ago. After the Enclosing Dike shut off the Zuiderzee "Southern Sea" from the North Sea to create the freshwater Ijsselmeer, Enkhuizen is a recreational marina town. Decent seafood is to be found in town or at museum eateries. We will take a train from Amsterdam to Enkhuizen (45 minutes). Lunch will be on your own, as some folks will like the outdoor museum and some will like the indoor museum.
Following our return trip to Amsterdam, we will have a final group dinner.
Sunday, April 30. Tot ziens (Dutch for "au revoir"). Those people not staying on will depart back to the USA. For West Coasters, it will be a midmorning flight; for others, there are various options. Schiphol Airport's duty-free shopping is one of the best around—those Dutch are still traders.
Some interesting things to do on your free days:
We offer here some possibilities; if you want further information, it can be provided, and if you want to know something about other possibilities, we can help. We will begin with options within Amsterdam, and then consider some possibilities out of town.
Option A. Wandering through Amsterdam. Amsterdam is a great walking city. If the weather is good, you can spend time in the Vondelpark (Amsterdam's version of Golden Gate Park, and right near the hotel). For modern art lovers, the Stedelijk Museum (right next to the Van Gogh Museum) features contemporary art. Folks interested in antique stores (and maybe even antiques) can stroll in the Jordaan, on the other side of the Singel from the Rijksmuseum. There is an all-year, everyday flower market. People wishing to go more into depth into Jewish Amsterdam can see the Anne Frank House (you should do it at least once) and the Jewish Historical Museum. The red-light district has its attractions, even it is only checking out the serious visitors to the area. There are a number of street markets not far from the hotel, and the main shopping area is close to Dam Square. You could spend one or both optional days within the city limits and have a great time.
Option B. The Art of the Hague. Take a train to The Hague Centraal Station (50 minutes). Select from the Mauritshuis (treasure house of Golden Age painting, comparable to the Frick in New York City, but more intense—short walk from train station), the M.C. Escher museum (also short walk from train station), The Gemeente (Municipal) Museum (tram ride from train station) for 19th, 20th-century art featuring Mondriaan), Panorama Mesdag (360-degree view of Scheveningen by Willem Mesdag—the best-known Dutch impressionist), a Dutch impressionist museum (Mesdag's home—for the cognoscenti). You can also walk through the Dutch seat of government, next to the Mauritshuis (while the capital is Amsterdam, because that's where the palace is, the seat of government is in The Hague).
Option C. Haarlem. Visit the Frans Hals Museum (Hals and other art, leather wall coverings, interior garden of what once was a senior citizens' home), St. Bavo church (one of the more impressive ones), open-air market (one of the better ones), Teyler Museum (technology).
Option D. Delft. Take train to Delft (20 minutes beyond The Hague). Visit Prinsenhof (historical and art museum), Old and New Churches, Town Square, Porceleyne Fles (Delft tile manufacture/historical display/sales).
Option E. Religious Utrecht. Take train to Utrecht (20 minutes). Visit (climb?) tower of the Dom—the highest church tower of the oldest cathedral in the Netherlands. Visit cloisters across the street. Visit religious-artifacts museum a block from the Dom. In train station, stroll through Hoog Catherijn—Utrecht's answer to Lloyd Center. Stroll canals with shops and restaurants at street level and at water level, one floor down.
Option Day F: Rotterdam. This city was destroyed during World War II, and in its rebirth, it was designed as an automobile-oriented city. But it has undergone yet another transformation, and it is worth exploring. From the train station to the city market, enjoy the many interesting aspects of this fascinating city.
Some of those devilish details:
Basics. The tour price includes double-occupancy hotel room, as well as breakfast each day from Monday through Sunday at the hotel.
In addition, attendees will receive a public-transit pass good for all busses, trams, and metros in the Amsterdam system from your hotel arrival through the next 168 hours, and train and bus fare for all group excursions not covered by the Amsterdam transit pass. Transit outside of Amsterdam, for optional day excursions you may choose, are not included.
Meals. Tour price includes the following:
• Breakfasts Monday through Sunday at the hotel
• Sunday (Rijsttafel), Thursday (Leiden house party), and Saturday (farewell) dinners
• Monday and Tuesday lunches
• Note that meals do not include alcoholic beverages—those are on your own
Attractions. Tour price includes the following:
• Sunday canal boat tour
• Monday Van Gogh Museum and Rijksmuseum
• Tuesday Amsterdam Historical Museum, Grote Kerk, Royal Palace, Portuguese Synagogue, and Rembrandt's House (Begijnhof does not have admission charge)
• Thursday Keukenhof Gardens in Lisse
• Saturday Zuiderzee Museum in Enkhuizen (one ticket includes open-air and indoor sites)
Cost: $1750 per person, double occupancy; $500 single supplement
Minimum group size: 10
Maximum group size: 24