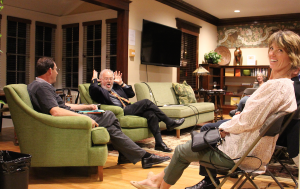 The spring run of Prexy salons kicks off on Tuesday, January 27, when you can engage in "powerful" discussion with Robert McCullough '72 on the topic:
Nuclear Winter: Is Nuclear Power Obsolete?
McCullough served as an expert on the Enron case, and consults across the North America on topics ranging from fuel pricing to liquified natural gas (LNG). You can read about his career here.
Tuesday, January 27, 2015, 7-8:30 p.m.
Prexy (the original president's house on the corner of SE 28th and Woodstock)
Reed College
Park in the West lot.
Space is limited to 30 participants, RSVP to alumni@reed.edu.
---
Plus, keep your eyes peeled for more salons throughout the spring…
February 5: 2015 Eliot Award Winner Arlene Blum '66 post-lecture discussion
March 4: Lecture by President John Kroger on book TBA

TBA: Lauren Sheehan '80 and Joe Hickerson on folk music in America
TBA: Campus Walk and Salon on Quality Architecture with Anthony Belluschi (son of library and psychology building architect Pietro Belluschi).