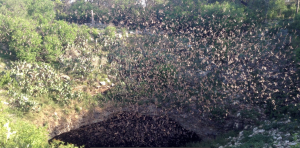 We'd be batty if we didn't do this…
As an add on to the LBJ weekend trip last year, a few alumni joined me on a trek to Bracken Cave outside of New Braunfels, Texas to witness an astonishing sight: millions upon millions of Mexican Freetail bats emerging from their roosts and flying hundreds of miles to gorge themselves on insects before returning home early in the morning.
This year the folks at Bat Conservation International have made arrangements for our group to visit the cave on Friday night, so it will now be an integral part of our trip.
Here is a video clip from last year.