Calligraphy Scriptorium: a hands-on exploration of letters & letterforms
"Welcome to the Scriptorium."
With these words, Professor Lloyd J. Reynolds opened each episode of his 1976 Oregon Public Broadcasting television program Italic Calligraphy and Handwriting with Lloyd Reynolds. (See this program and other calligraphy videos on our YouTube channel.)
As an outgrowth of the Reed's centennial exhibition Lloyd Reynolds: A Life of Forms in Art at the Douglas F. Cooley Memorial Art Gallery, gallery director and curator Stephanie Snyder '91 founded the "Calligraphy Initiative in Honor of Lloyd J. Reynolds." Support for the program has come from former students of both Reynolds and Robert J. Palladino, including Palladino, Inga Dubay, Georgianna Greenwood '60, Sumner Stone '67, Paul Shaw '76, John Sheehy '82, and Gay Walker '69. Gregory MacNaughton '89, education outreach coordinator for the gallery, currently directs the program.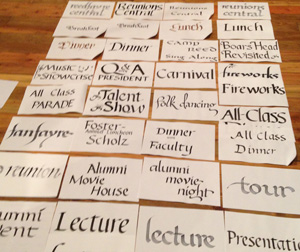 The Reed Calligraphy Initiative seeks to introduce a new generation of Reed students and community members to the holistic study and practice of calligraphy, as well as to the heritage and legacy of calligraphy at the college. The initiative organizes a weekly scriptorium, which is open to all Reed students, staff, faculty, and alumni—without cost. Rigorous instruction is facilitated by MacNaughton, in collaboration with outstanding guest instructors, such as Dubay, Greenwood, and Palladino. In addition, MacNaughton is integrating calligraphy instruction into the Cooley's K-12 education outreach program, the Open Gallery Program, and collaborating with Dubay to provide calligraphy instruction to Portland public school teachers and students.
This compelling program is going strong in its second year, and it's time to share it with the broader Reed community! Please join Gregory MacNaughton as we take scriptorium on the road to alumni chapters across the country, presenting a memorable program that celebrates the beauty of hand lettering and its resonance at Reed.
Program includes:
Reception (open to all)
Talk/Demonstration (open to all)
Guided Practice (limited space)
Walk and talk about letters (weather & time permitting)
Special guest instructors will join us in select cities:
Look for your invitation via email and be sure to RSVP to alumni@reed.edu.