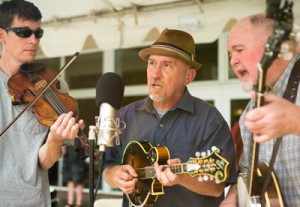 Sing along, dance along, or sit back and enjoy. Whatever your preference, Reunions '14: Reedfayre, June 4-8, offers a enticing panoply of wonderful music.
Rob Fishel '03 on show-tunes piano:
If you like to sing aloud to show tunes and popular standards, then Thursday night is for you. Rob Fishel '03 will be at the piano and will play songs for you to sing with on Thursday night, starting at 9 p.m. in the Performing Arts Building. Whether you like to belt out "Oklahoma," "Alexander's Ragtime Band," or one of the many songs penned by Johnny Mercer, this is the place to do it! Rob is taking requests, so respond to this email with a song you would like to sing.
In honor of Pete Seeger:
"This machine surrounds hate and forces it to surrender." Those were the words than encircled the head of Pete Seeger's famous banjo. And while he passed away earlier this year, his message endures. From storytelling sessions by Cricket Parmalee '71 about Pete's concerts at Reed to Dr. Demento's talks on Seeger's influences to a hootenanny in Seeger's honor, we are pleased to offer programming in which we share words, songs, and memories of this remarkable American.
Lauren Sheehan '81 and friends. This local songster is back in town following an East Coast tour, and she will again share her versatile talents by leading the Seeger hootenanny on Friday and performing at the Saturday carnival as well as over dinner on Saturday. As in past performances, she will assemble a some talented friends to accompany her.
Kyle Alden Thayer '80:
Kyle Alden Thayer '80 returns to Reed and is joined by local favorite Kathryn Claire for three performances featuring folk songs played on guitars, fiddle, mandolin and harmony vocals. They will entertain us over dinner in the quad on Friday evening. They will anchor the stage on Saturday afternoon at the carnival. And they will close out Reedfayre with a Sunday brunch performance in the Commons Café.
Stop Making Sense & '80s Dance Parties:
Keeping it real by keeping it retro. Friday night will conclude with an '80s dance party as we spin the tunes that came in by request over the past few months.
And back by popular demand, Reedies cannot get enough of the Talking Heads classic, Stop Making Sense. We'll once again pack the SU and crank up the volume as we see David Byrne and his motley crew on the big screen to close out Saturday night.
Sportin' Lifers:
Erin Wallace '96 and Whit Draper '87 gig around town with a group of talented musicians known as the Sportin' Lifers. Whether you want to sit back and listen or get up and dance to the jazzy, bluesy interpretations of popular standards, you'll dig the vibe on Saturday evening.
Big Daddy Thaddy & the Sugar Dick Daddies:
As if you didn't know that the current crop of Reed students have talent, you can see and hear it in person as Jack Johnson '15 and Omar Hashani '16 team up with some friends and play classic electric-blues tunes. Expect to hear some Howlin' Wolf, Muddy Waters, and more, as you groove to the harmonica wizardry of the inimitable Big Daddy Thaddy on Saturday.
Russian Duo:
Terry Boyarsky '70 and Oleg Kruglyakov charmed those who saw their piano and balalaika concert during our centennial Reunions, and we are delighted to welcome back Russian Duo on Saturday night.
Photo of Lost Creek at Reunions '13 by Leah Nash