New at the PARC 2015/2016
Welcome back to a new school year! It has been a busy summer at the Performing Arts Resource Center getting ready for it. I am excited to let Reed know of new hardware available for immediate checkout at the PARC.
We now have microphones! They have been chosen for their flexibility and multiple configuration possibilities. Remember, each microphone has its own character; no two mics are the same. Also, placement and process (which DAW you are using, your signal flow, and your instrument and instrumentalist quality) are huge parts of your final product. Experiment, use your ears, and have fun!
Shure SM-57 (2):

dynamic microphones with a classic cardioid polarity pattern. The SM-57 is a legendary, rugged workhorse and one of the most recorded microphones. Try these mics on horns, guitars, and drum sets; they are especially great on snare drums.

Shure SM-7B:

dynamic microphone with a classic cardioid polarity pattern and bass roll-offs (which allows it to be used as a kick drum mic). Even though dynamic mics are not usually associated with vocal recordings, this is our current vocal mic of choice. Bruce Swedien used it to record Michael Jackson's

Thriller

album. Metallica, the Red Hot Chili Peppers and many others have also used it for vocals.

Behringer C-2 (2):

cardioid microphones (small diaphragm) with low frequency roll-off and attenuation. Use them individually or as a stereo pair.  Try them on any acoustic instrument, particularly stringed instruments and percussion, as the small diaphragm handles the quick transients associated with these instruments nicely. Use these mics also as stereo overheads on drumsets.  

Apogee One:

USB microphone for iPads/iPhones and computers. It has both a built-in digital microphone (cardioid) and a built-in analog to digital converter, which allows you to plug in an analog mic, an instrument, or both and record simultaneously.

Apogee digital mic:

cardioid USB mic with gain control (for iPads/iPhones and computers).

Cloudlifter:

Instant zero noise +25db booster to your input signal, with no coloration of sound—just enhancement of the natural microphone sound.  Great for long cable runs too. Good to use with the SM7b microphone.
In addition, we have microphone stands, microphone cables, instrument cables, and a large carrying bag for the stands and microphones.
We also now have mobile recording hardware available:
iOMix by Alesis

: This is a docking station for the iPad. Just plug the iPad into the iOMix and you have a mobile recording studio with four analog inputs (XLR and 1/4″).  The iOMix has phantom power, independent gain control, a line level switch on channel 1 for guitars, channel sliders, panning, and latency-free input monitoring. Check it out in conjunction with a PARC iPad and you can record up to a 24bit, 96khz sample rate (depending on the app you use; MultiTrack DAW recommended) on the iPad.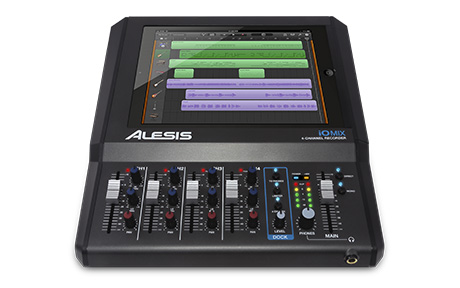 Coming soon! MOTU Traveler:

The MOTU Traveler is really two things in one. On one hand, it is a highly mobile audio interface featuring eight XLR and ¼" inputs and up to a  24 bit, 192 khz sample rate with built-in DSP vintage effects. On the other, it is a standalone 28-input, 16-bus digital mixer with DSP effects that utilize its LCD screen for mixes. The MOTU Traveler is great in the field as it is computer powered, gets upwards of two hours on just laptop power while recording (also uses a plug-in adapter if needed), and weighs in at only four pounds. Connect it to your own laptop or a PARC configured laptop to get out there and record in a specific environment or room of your choice.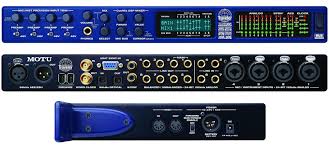 If all that is not enough, we have done some work on our AV editing suite in room 327 at the PARC.  In our ongoing effort to make this room a desirable recording and mixing environment, we have added sound-dampening acoustic panels that have greatly improved the overall sound profile. If you need to mix or master an existing recording (in 4.1 or surround sound), record a podcast, vocal overdubs, an acoustic instrument, or something else, give this room a try.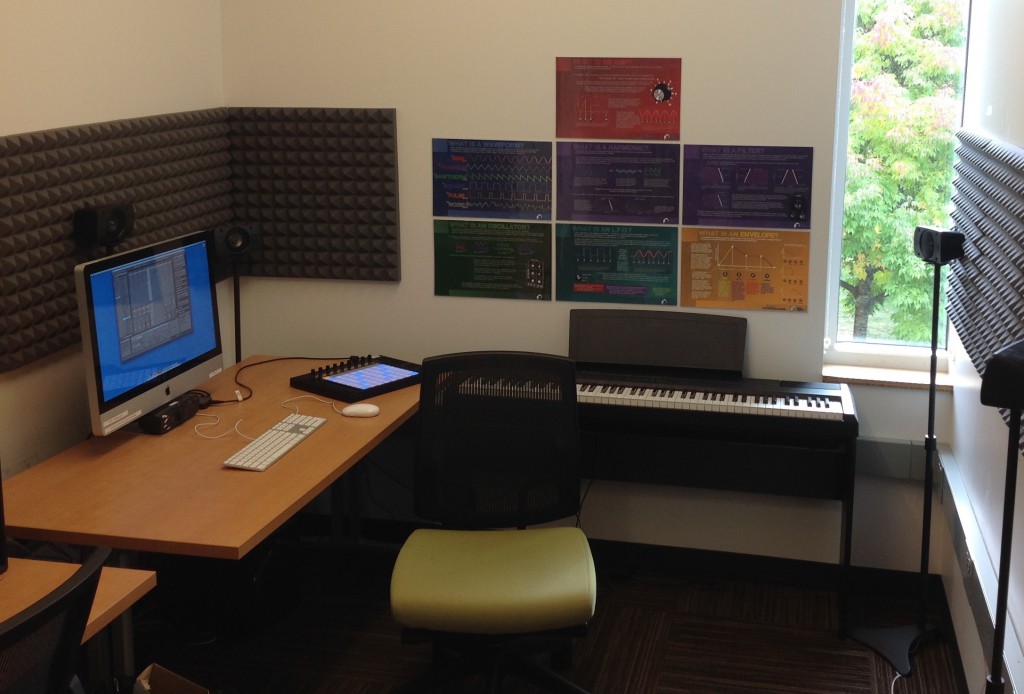 So come by the PARC, check out some of this equipment, and say hello. I am here to facilitate your exploration. Use our AV room, one of our mobile recording rigs, or the microphones to edit existing recordings, make overdubs, or create a hip-hop piece in Ableton; the next great atonal, irrational time signature piece of modern music; or even a conceptual sound collage that involves inverting the phase of the Doyle Owl so it can never be heard, but only seen.
See you soon,
Joe Janiga
Instructional Technologist for the Performing Arts