Although Reed College Library employs the best library staff ever (!), we also depend quite heavily on our awesome student employees. A group I am especially partial to is our Reference Assistants!
Reference assistants are specially trained juniors and seniors who work on the reference desk nights and weekends helping the Reed community do anything from printing a document to finding primary sources on the Red Cross!
To help you all get to know these valued employees, we'll be posting a profile of a different reference assistant every week.
This week's reference assistant of the week (RAoW) is: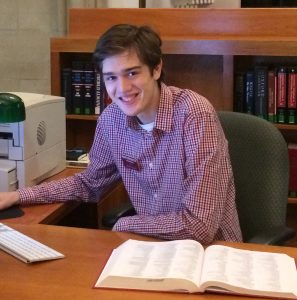 Name: Drew
Title: Lead Reference Assistant
Year: Senior
Major: History
Thesis Topic: Um. It is the second week of classes. I don't know yet!
Favorite Library Resource: Special Collections! (especially the old Quests)
Favorite Place to Work in the Library: My Secret Spot™ by the window (note from editor: Drew's secret spot is no longer there. Sorry Drew!)
Reason you wanted to be a reference assistant: I remember a ref assistant helping me with a research project my freshman year and I wanted to be that for someone else.
Hardest thing about research: Coming up with a narrow enough topic to write, while still being broad enough to find enough sources.
Favorite thing about Reed: Very hard to answer. Maybe that there's a dance based around watching Stop Making Sense twice every year.
Cool thing you did this summer: I worked for [redacted] , the best boss ever (note from editor: Drew spent the summer working with us in the library on a number of projects…One of which is code named VIRGIL. Watch this space! We will be sharing more information soon!)