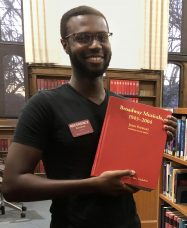 Name: Chad
Year: Senior
Major: History
Favorite Library Resource: I'm not sure if it counts but I'm a big fan of the e-reserves. I do a lot of my readings on my laptop and I like being able to access texts for class at home or anywhere on campus.
Favorite Place to Work in the Library: Definitely my thesis desk. I have a great view of the Lawn and its nice to have a spot in the library where I can keep my books and other materials that I need for classes.
Reason you wanted to be a reference assistant: I'll admit I've never been one to spend much time in the library. However, the position of reference assistant allows me to give back to the greater Reed community. Also, working as a reference assistant has helped me learn more about the different databases, guides, and collections that the library has to offer.
Hardest thing about research: Probably narrowing down the scope of my research. I like to tackle big picture questions in my work and focusing my research towards on one idea or question has always been difficult for me.
Favorite thing about Reed: I would say my favorite thing about Reed is the friends I've made during my time here. I've established a strong network of friends over my four years at Reed who are always willing to lend a helping hand when needed…but are also always down for a rowdy game of rage cage. (Editor's note: I have no idea what rage cage is!)
Cool thing you did during break: I started teaching myself the basics of music theory in order to help me produce songs on Ableton and Logic Pro.