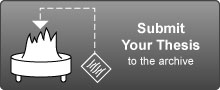 Hey seniors – join your comrades in the Reed College Digital Thesis Tower!
Add your thesis to the Reed Senior Theses online archive and help build the digital thesis tower. Submit your thesis after you've completed your orals, made last corrections, and sent your thesis for printing. The version should be identical to your final, printed thesis. Participation is completely voluntary and does not replace your printed, bound thesis.
Go to the Electronic Thesis Information Page for details.
For more information or help with the process contact Angie Beiriger, Digital Assets Librarian, or send a message to etheses@lists.reed.edu.