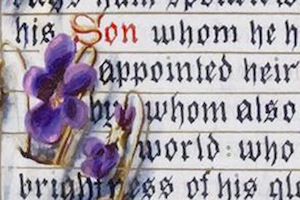 Reed recently acquired an illuminated Christmas Mass, calligraphed and illustrated by Marie Granville and perhaps others, dated 1854.
This lovely manuscript has been digitized and is now part of the Digital Collection.
This work is illuminated with many initials in colors and burnished gold, with full borders on every page in a variety of styles based on Medieval prayer books, most with floral decoration in bright colors. Several borders contain miniatures in rondels that show great detail; one page contains views of the Great Exhibition of 1851 London including the Crystal Palace. The binding is an excellent example of the amazing leather work of Leon Gruel, a well-known French binder.