Need a PDF of an article or book chapter from the library? Reed students, faculty, and staff can request scans of Reed materials through InterLibrary Loan (ILL).
How to make a request
Go to your ILL account (Illiad), and login with your Reed username and password.
If you've never used ILL before, you'll be prompted to fill out some contact information first.
Under New Request, select "Article" or "Book Chapter".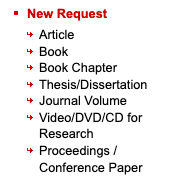 Fill out information about your request. The more info the better!
Submit your request.
You will get an email notice when your request is ready as a PDF. Please allow 4-5 business days. The library cannot scan an entire book or multiple chapters due to copyright law.
Requests for non-Reed materials
Need access to a book chapter or journal article that Reed doesn't have? Follow the same steps as for Reed requests. ILL staff will connect with libraries across the world to find the resource and deliver it to you as a PDF.
Questions? Contact interlibrary-loan@reed.edu