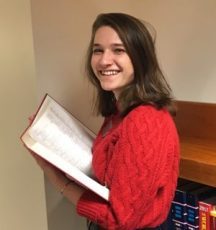 Name: Claire
Year: Junior
Major: English
Favorite Library Resource: The thesis tower or the photographs in the Reed College Archives.
Favorite Place to Work in the Library: North Reference. The old-school green desk lamps make me feel like Elle Woods during her Harvard days. An Elle Woods with endless table space. (Editor's note: Legally Blonde is one of my favorite guilty pleasures!)
Reason you wanted to be a reference assistant: Reed has given me a lot, so I want to pay it forward! Also, being the bookworm that I am, the library is my home away from home.
Hardest thing about research: Narrowing down my list of sources! I always want to squeeze a nugget of information from every article I find into my papers.
Favorite thing about Reed: The small student body has allowed me to jump on an amazing array of opportunities, from working on multiple publications to interning with Reed alumni in different countries. To give a less cheesy answer, living in the Spanish House on campus has been the most rewarding and ridiculously fun experience of my Reed career.
Cool thing you did during break:  My sister gifted me a collection of poems by Ada Limón over the holidays, and I raced through it (mistake! poems should be treated like a four-course meal, not a snack—don't worry, I'm rereading it now). (Editor's Note: Some of her poetry is available here. And the library has two of her collections: Lucky Wreck and Bright Dead Things.)