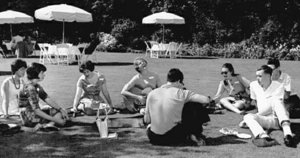 Centennial Reunions is upon us, and trying to take advantage of all the splendid offerings is like making selections from an extravagant smorgasbord! If I were footloose and fancy free to attend the festivities as a layperson, here's what my schedule highlights would be. Hopefully I'll make it to a few of these events, hopefully I'll see some of you there. Which activities are at the top of your list for this week?
Tuesday:
3-4:30 p.m.
Alumni College: Social Justice 100
Panel discussion with Xeno Acharya '09, Peter Bergel '65, Sunny Daly '03, Sue Hagmeier '75, Kristiana Hansen '96, and Craig Mosbaek '83; moderated by A'Nova Ettien '01.
Although "Communism, Atheism, Free Love" makes a great sound bite, Reedies have always considered social justice as the grounding of any sloganeering. Moreover, they've walked the walk as well as talking the talk. Here, we provide a panel discussion that looks back on Reedie social activism over the past half century and looks forward to where we should be going.
Wednesday:
9-10 a.m.
Alumni College: It's Greek to Me 100
Wally Englert, Omar & Althea Hoskins Professor of Classical Studies & Humanities, will reprise his Humanities 110 opening lecture on the Greeks, Homer, and Greek epic. Come prepared to chant the opening lines of the Iliad and the Odyssey.
3:15-5 p.m.
Alumni College and Tour: Reed Architecture 100 with Charles Rhyne, professor emeritus of art history, meet at the flagpole and please wear comfortable footwear.
Professor Rhyne will discuss the ways in which the design of the campus has evolved over the years. In addition to describing recent changes in buildings and spaces, he hopes those participating can share their memories of the campus and their impressions of the "new" campus.
Thursday:
9 a.m.-4:15 p.m.
Alumni College: Letters 100: Experiencing Mary Barnard '32
Mary Barnard '32 is arguably Reed's most prominent creative artist. Her original poetry and translations of classic poetry influenced generations, including the beat poets who followed her by one generation. Her 100th birthday was celebrated in 2009, so it is appropriate that the Reed Centennial honor her with a full day of lectures and conferences about her life, her work, and her influence.
8:30-11 p.m.
Bad Video Board
Join Jemiah Jefferson '94 and Celeste Ramsay '94 for the return of Bad Video Board! This '90s weekend staple brought some truly terrible movies to the Saturday-night Reedie masses, and the movie ladies are back to dazzle your minds and break your brains with some seriously misguided cinema. Specific movies are TBA.
Friday:
10 a.m.-2 p.m.
The Gray Fund is looking to record your story. In preparation for the Centennial Gray Fund Celebration, we are hoping to collect recordings of alumni speaking on what Gray Fund meant to them during their time at Reed. Have a story to share? Please stop by the Student Center (formerly the health & counseling center/the infirmary).
5-6 p.m.
Centennial fanfare
This sixth-annual keynote event features poet Gary Snyder '51
9 p.m.-midnight
Bands of the 1990s
–HollowDog, 9 p.m.
Stuart Margolis '93 and his friends perform a tasty take on good old
rock-n-roll. Those who like to kick back and listen or those who get the
urge to dance will enjoy this Portland-area band.
–EggDog/Love Butt, 10 p.m.
Seminal feminist punk bands return to rock you. Copies of the Egg Dog Tactical Map and the Lovebutt tape "Emilechrist" will be available. Christine Denkewalter '92, Jody Bleyle '92, Alicia Cohen '93, Hannah Demerritt '92, Rachel Hanes '93, Val Risk '92, Ellen Crofts '93, John "Krack" Peterson '93, and special guest Cynthia Star.
–Atomic Swerve, 11 p.m.
Brett Rogers '99 and his buddies reunite to perform tunes that resonate
with those mid-1990s alumni.
Saturday:
10 a.m.-noon
Alumni College: Leadership 100: The Three Tenures, with presentations and a president's panel with President Colin Diver and former presidents Paul Bragdon and Steven S. Koblik
2-4 p.m.
Tying Up Loose Threads
Travis Greenwood '01 and Josh Elliott '98 want your (Olde) Reed tees for a digital photo archive. Bring what you have to the SU, and we'll photo them on the spot. All classes, years welcome.
3-5 p.m.
Alumni food showcase
Sample the amazing treats and libations of fellow alumni: Steve McCarthy '66, Andy McLain '93, Jehnee Rains '93, Bear Wilner-Nugent '95, Siiri Sampson '04, Clayton Szczech '00, and Diane Vireday '89.
6-8 p.m.
All-class dinner
Sit with classmates by vintage and enjoy a scrumptious barbecue spread based on Steve Raichlen '75 recipes and Sweet Baboo, with Phil Bakeman of Pink Martini on bass, Portland jazz phenom Lee Wuthenow on tenor sax, Scott Foster '77 of Swingfish on guitar and vocals, and James Mason of Swing Papillon on violin.
9:45-10 p.m.
Fireworks
Enjoy the grand finale of Reunions '11.
10 p.m.-1 a.m.
Davis Rogan '90 and the Allstar New Orleans Rhythm and Blues Revue
Davis and his playing buddies rocked the SU three years ago. Now the inspiration for a character on Treme, he returns to the scene of the crime (as it were).
For the full schedule, look online or consult the printed booklet that you receive upon arriving.