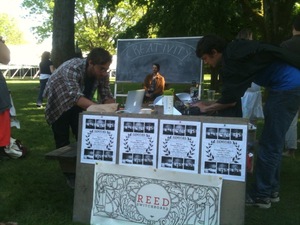 The Reed Switchboard is a volunteer effort aimed at fostering contact between current students and alumni. We've partnered with artist Lucy Bellwood '12 to bring you the Switchboard Hearts 2012 project. During Reunions '12: Reedfayre, Lucy will be on campus taking photos of Reedies and their passions on Saturday, noon to 5 p.m., outside between Old Dorm Block and Eliot.
Alumni: what are you passionate about? If a current student called you, what would you want to talk to them about? Who are the Reedies you'd like to connect with and what are their interests? The photos we take during Reedfayre will be posted online later this summer so that everyone interested in, say, "museums" can learn about their shared interests and connect with each other. Join the photo shoot!
For more information, send email to reedswitchboard@gmail.com.