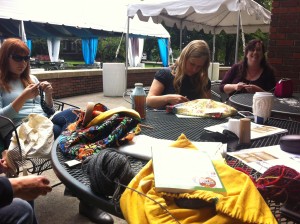 From, Claire Michie, our correspondent in the field, er on the patio:
Intrepid knitters gathered on the porch of Commons on Thursday and Friday of Reunions '13: Reedfayre to join Theressa Silver '93, Sally Neal Williams '93, and Rachel Wolcott '93 for Knitfayre 2013. Sally was spinning hand-dyed wool from her sheep (beautiful bright colors from Blackberry, whom I hear is quite fond of back scratches), Rachel worked on the Athena Coffea coffee cozy, and Theressa alternated between a gorgeous pair of over-the-knee socks (in a familiar shade of Reed red) and a kick-ass top hat from her book Hat Couture. Joining this group was Katy Pine '00, Laura Birek '03, and Meg Petersen from the Reed Annual Fund. Laura is the author of Picture Perfect Knits, a book of charming intarsia patterns and techniques.
Knitting is frequently a solitary sport, so knitters love any chance they can get to gather and talk about fiber preference, WIPs (works-in-progress), second-sock syndrome, and the dreaded sweater curse. At Knitfayre 2013, I found my motivation to finally finish the sleeve of my first adult-sized sweater—I hope to be wearing it at Knitfayre 2014.
—Claire Michie, Associate Director, Donor Relations