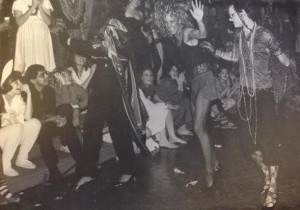 We know that you still own your leg warmers and long to put your hair in a side ponytail. We know that sometimes all you want to do is paint your face and put on spandex and turn your amp up to 11. We know that you realize every rose has its thorn, just like every cowboy sings his sad, sad song.
For these reasons alone, Reunions '14: Reedfayre will feature a 1980s dance party for you in the SU on Friday, June 6!
And just so we can best serve your nostalgia (or longing for an era that you never lived in but that seems pretty cool), you can and should request a song in advance! So if you've got a favorite Michael Jackson, Prince, Madonna, Queen, David Bowie, Bruce Springsteen, or Poison song, let us know at alumni@reed.edu. We'll do our best to accommodate all reasonable requests (yes, "reasonable" is open to interpretation).
Photo from the archives: Reed social, 1986