This season of fresh starts and affectionate missives is the perfect time to announce our exciting new partnership with Reed Switchboard—an online forum for Reedies to connect with one another about jobs, housing, and other goods and services. Like Craigslist (but especially for Reedies), on Switchboard you can ask for what you need and offer what you have to give.
We are fortunate to have a student worker who serves as a public face and a wonderful advocate for Reed Switchboard. I am pleased to introduce our community manager, Kaori Frieda '15, and share the announcement in her own words.
—Mike Teskey, director, alumni & parent relations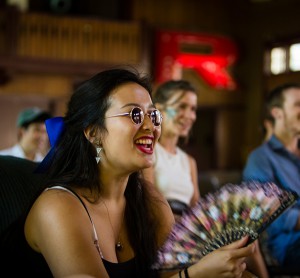 I'm Kaori Freda '15, a junior art major who loves Reed College. I'm writing to announce Reed's official partnership with Switchboard.
If you haven't heard of it: Switchboard is a networking site created by Reedies. It is a place where Reedies can ask for what they need, and offer what they have to give; examples include jobs, internships, mentorship, advice, places to stay in cities around the world, and even a chance to sail the Mediterranean. Students, alumni, staff, faculty, parents, and friends connect there to find opportunities and meet each other's needs.
Alumni and students have logged countless success stories, from finding jobs at the World Health Organization to finding hosts in New York and San Francisco. Take me, for example. Through Switchboard, Mara '02 and Andrew '02 hosted me in Florence, Italy. Then they connected me with an internship with Harvard in Italy. These connections happen every day through Switchboard. Reedies share a special connection and as alumni, you have much to offer and ask of the Reed community.
Let me be the first to personally invite you to use Switchboard: post your own ask or offer, browse the site for opportunities, and see the successful connections being made by Reedies around the globe. On Switchboard you can help a Reedie out and strengthen what we mean when we say "Love Reed." We have almost 1,000 posts, and more are added every day.
I look forward to sending you the occasional update, and watching the Reed community flourish and support one another on this new platform.
Warmest wishes,
Kaori Freda '15 and Alumni & Parent Relations
P.S. Mark your calendars for an open house celebrating this union on Thursday, February 20, 6-8 p.m. at the offices of Wieden+Kennedy in Portland's Pearl District!