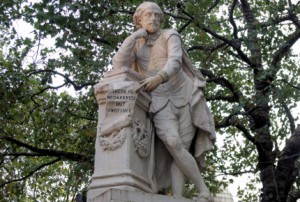 Immerse yourself in London's theatre scene with seven plays over 10 days! Limited seats for guided discussions, expert insights, and special access to behind-the-scenes programs for the group.
Shakespeare died in 1616. So did Cervantes. This was also the year in which a folio volume, The Works of Benjamin Jonson, made its appearance, thereby claiming for the first time that modern plays could rival those of the ancients. In commemoration of these cultural milestones, lots will be going on in London and Stratford during 2016. Under the leadership of Robert Knapp, R.F. Arragon Professor of English and Humanities, a contingent of Reedies will sample these pleasures in late July.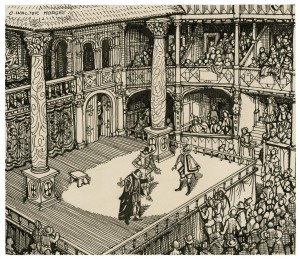 The London season has been announced, and we have secured tickets at the Globe to A Midsummer Night's Dream, The Taming of the Shrew, and Macbeth to supplement our four plays at Stratford (Dr. Faustus, The Alchemist, Cymbeline, and Hamlet), and we have made arrangements to visit the Garrick Club (that shrine to British theatre, and to the actor-manager who did more than anyone else to establish the cult of William Shakespeare). We will be sure to see a couple of shows at "Shakespeare's Globe," that Bankside recreation of the Burbages' 16th and 17th century venue. And while in and around Stratford (where Shakespeare lived, filed lawsuits, and owned property) we will investigate the countryside whose flowers and birds have been transmitted into popular culture through the plays.
In addition to playgoing, conference-style conversations about texts, contexts, and productions, and some organized touring of Stratford sites and the surrounding countryside, there will be ample time for individual exploration of London.
Planned Itinerary
Wednesday, July 20: Depart USA (for most Reedies and friends)
Thursday, July 21: Arrival into London. Check into Ambassadors Bloomsbury Hotel.  Evening reception (with London Reedies).
Friday, July 22: Opening seminar, program overview.  Matinee: A Midsummer Night's Dream.  Evening free.
Saturday, July 23: Morning free: Afternoon-Evening: travel to Glyndebourne; explore grounds, collections, and enjoy a performance of  Béatrice et Bénédict  (excursion and ticket prices are extra–currently showing as sold out, so we'll have to see who wants to go and if we can get tickets).
Sunday, July 24.: Free day.  Optional activities offered.
Monday, July 25:Victoria and Albert Museum  Evening: Shakespeare's Globe theatre backstage tour and evening performance of  The Taming of the Shrew.
Tuesday, July 26:Visit to Garrick Club as special guest of William Cussans '83 (to be confirmed closer to tour time).  Tour club and collection. Afternoon free.  Evening performance of Macbeth
Wednesday, July 27: Greenwich.  Take Thames River boat and tour Greenwich. Evening free.
Thursday, July 28: Depart Bloomsbury on private coach for Stratford via Oxford and the Cotswolds (Cirencester, perhaps). Check into hotel (the Stratford). Evening: performance of Doctor Faustus.
Friday, July 29: Stratford seminar. Walking tour of Stratford. Possible countryside walk to Anne Hathaway's cottage. Evening: performance of Hamlet.
Saturday, July 30: Afternoon: matinee performance of Alchemist. Evening: performance of Cymbeline. Final celebratory, post-performance drink.
Sunday, July 31: Morning countryside walk and departures.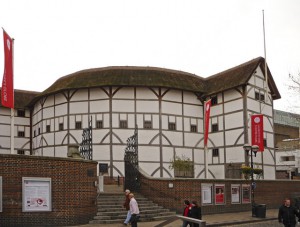 Cost: Based on requests from travelers, we are pleased to offer some pricing options: $2,800/person double occupancy  (includes hotels, opening and closing receptions, guided seminars, private coach transport from London to Stratford,  mid priced seating at plays).  Single supplement $400.
Option: London 3 plays, talks, tours over 7 days with hotel: $1750/person. Double occupancy.  (Call for single supplement or other special requests)
Option: Stratford 4 plays over 4 days (3 nights) including talks, countryside transit tour. $1150. Double occupancy.  (Call for single supplement or other special requests)
To reserve your spot (only 16 available) and for additional information, contact alumni@reed.edu.