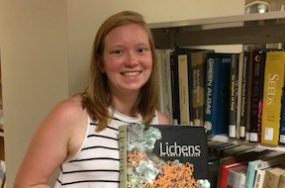 Name: Elaine
Year: Senior
Major: Environmental Studies – Biology
Favorite Library Resource: Web of Science. Also the Databases page.
Favorite Place to Work in the Library: North Reference tables with the classic green lights.
Reason you wanted to be a reference assistant: I wanted to help people access all of the cool resources that Reed has and fulfill my dreams from freshman year.
Hardest thing about research: Coming up with an inclusive list of search terms.
Favorite thing about Reed: Moss*
Cool thing you did this summer:  I taught myself to tie fancy knots and made fish glow.
*I went through >10 different ideas for my favorite thing about Reed, but moss is part of the reason I decided to apply here and I'm so incredibly grateful to have had the most intense and rewarding experiences of my life at Reed.