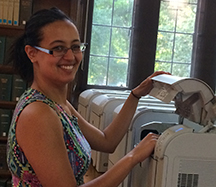 Name: Hayfa
Year: Junior
Major: Political Science
Favorite Library Resource: The New Books shelf (It has all the exciting new literature in all different fields)
Favorite Place to Work in the Library: Basement Group Study Room.
Reason you wanted to be a reference assistant: I enjoy doing research and digging for information and would like to be able to help others through this process. I also worked in the library since my first year at Reed. I learned so much about the resources available and wanted to share that knowledge with others.
Hardest thing about research: Knowing how to narrow down your topic while keeping it intriguing and interesting.
Favorite thing about Reed: The International community.
Cool thing you did this summer:  I visited couple of rivers and waterfalls in Oregon.