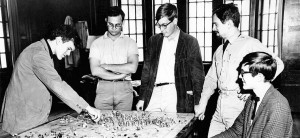 This year, we're honoring the legacy of Reed's classic 1960s strategy game "Empire" by opening a collection of board games for play every night of Reunions '14: Reedfayre, June 4-8!
Courtesy of Reed's own ARG (Association of Reed Gamers), we'll have a smattering of modern strategy games (Euro-style and otherwise) that can all be played in an hour or two (unlike Empire, where individual games can span years.) And, of course, we'll have classic party games like Clue and Cranium for the less tactically minded.
The games will be available for play at the Boar's Head Revisited Bar, located in Commons café in the Gray Campus Center, 5:30–9 p.m. on Wednesday and Thursday and 8 p.m.–1 a.m. on Friday and Saturday.
Register online today and start plotting your tactical moves!