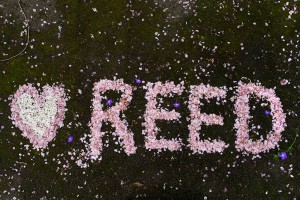 From petals to paddles, we've got you covered for playful ways to enjoy Reunions '14: Reedfayre, June 4-8!
Kaul Auditorium will be converted into the "Ping-Pong Palace" on the Saturday night of Reunions. We've procured no fewer than 12 ping-pong tables, plus Air Hockey, Jenga, and Skee Ball for good measure. And did we mention there will be a blacklight? So start practicing now and make sure you carve out some time for games that night, whether you're getting energized for the talent show, or filling the odd hour between fireworks and the Stop Making Sense dance party.
Register online today. Check out who's coming.
Still need a nudge to return to campus for the fun? Let us spell it out for you in fallen cherry-blossom petals!