There are two new delivery options when requesting Reed books from the catalog. Questions? Email library-circ@reed.edu
Mail delivery
If you are in Portland and would like a book delivered to your Reed mailbox, choose "Reed mailbox delivery". If you would like materials mailed to you, choose "Ship to – provide address in comment". If you choose the "Reed Library" option, we will email you for delivery preference, as the library is not currently available for pick up.

Note that the Summit lending service is still suspended until further notice. Contact your subject librarian for help identifying alternative sources.
Scan requests
If you would like particular pages from a book scanned and emailed to you, choose "Digitization".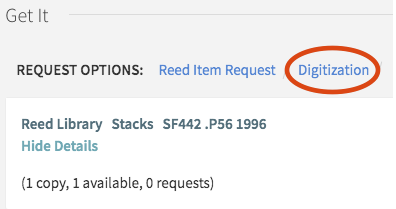 Click the partial button and fill in the pages or chapter you would like scanned. The library cannot scan an entire book or multiple chapters.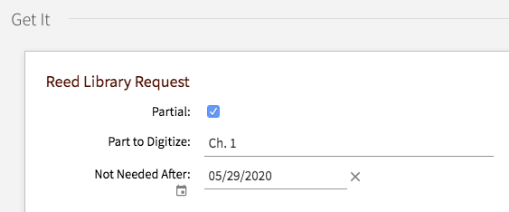 We will email you the digitized pages within 48 hours of receiving the request. Weekend requests may take an extra day.
For article requests, use interlibrary loan.