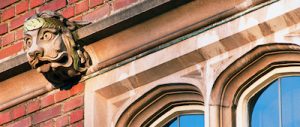 Help build the digital thesis tower! As an alum you'll be able to access your theses online anytime, anywhere. But you have to upload it first!
As soon as you've completed your first thesis check and are ready for printing, you can upload your thesis to the archive.
Save final version of your thesis as a PDF.
Visit the electronic theses website and click on the submission button to start the process.
Participation is voluntary and you have control over who can access your thesis. Consult with your advisor about your interest in submitting to the electronic archive, especially if your thesis contains ongoing research.
Please direct any questions to:etheses@groups.reed.edu.
Photo Credit:A Reed College Library grotesque in laurels. Photo courtesy of Special Collections and Archives, design by Jason Parker.