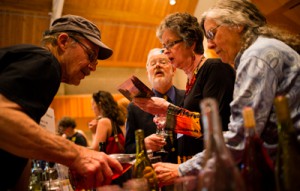 We'll be celebrating cooking, brewing, and crafting at Reedfayre! On Saturday, June 7, 2–4 p.m., no fewer than 18 different Reed artisans will descend on the Performing Arts Building to sample and sell their wares for "Marketplace." The most recent addition to the lineup is Tom Burkleaux '92, who will be bringing spirits from his small-batch distillery, New Deal. See a full list of vendors.
Marketplace admission also gets you exclusive access to Meat Smoke Tent on Saturday, and everyone who buys a Marketplace ticket gets a Reed College tote bag and a coupon entitling them to $5 off a clothing purchase at the bookstore. Purchase your Marketplace ticket when you register online or by calling 503/777-7589.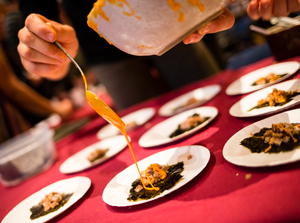 Even if you don't buy a Marketplace ticket, you can browse the vendors in the "Crafty Emporium" at no cost: yarn, unique lipstick, jewelry, and letterpress, all made by Reedies, will be on display and for sale on the second floor of the Performing Arts Building.
In addition to Marketplace, we're also holding a series of talks and food panels, featuring Reed chefs, food writers, vintners, farmers, and sustainability experts. Topics will include the Portland food scene, food writing, sustainability, and GMOs.
Please note: Although minors are allowed in Marketplace, samples of alcohol will be present. Those who plan on partaking of said alcohol who appear to be under 30 must present a photo ID at the door to receive an over-21 wristband. Those without a photo ID will still be granted admittance, but will not be allowed to purchase or drink samples of alcohol.