Recommended Resource: LangMedia
Most language learners are familiar with the term "language proficiency." Four components — listening, speaking, reading and writing — are measured when a learner's language proficiency is being assessed. The measurement of world languages proficiency follows the guidelines developed by the American Council on the Teaching of Foreign Languages.
For all components of proficiency, "distinguished" is the highest level, followed by superior, advanced high, advanced mid, advanced low, intermediate high, intermediate mid, intermediate low, novice high, novice mid, and novice low. As near native as distinguished foreign language speakers may be, according to the ACTFL proficiency guidelines (2012), "a lack of a native-like economy of expression, a limited control of deeply embedded cultural references, and/or an occasional isolated language error may still be present at this level." Learning a language is also learning its culture, thus language learners seek opportunities to embed embed themselves within the culture. When first-hand experience is limited, authentic materials from the culture where the target language is speaking becomes precious resource for students.
With the increase of international students attending American universities, in many ways international students have become teachers of language learners. Between 1999 and 2002, the Five College Center for the Study of World Languages created LangMedia with the support of a grant and their international students. LangMedia has a collection of videos that were filmed by the international students. These very short video clips show "examples of authentic language spoken in its natural cultural environment so that students of all ages can better understand the interplay between a language and its culture." The video clips are organized by the countries in which the languages are spoken.
Students who are taking French, Spanish, German and Greek at Reed might find this resource especially helpful. Transcripts in both English and the language spoken are available to the videos.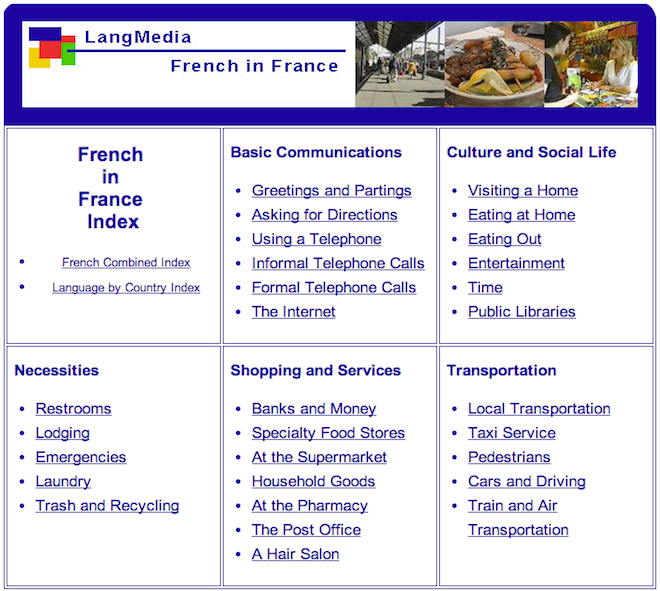 References:
ACTFL Proficiency Guidelines 2012. American Council on the Teaching of Foreign Languages. Retrieved from http://www.actfl.org/
LangMedia. Five College Center for the Study of World Languages. Retrieved from http://langmedia.fivecolleges.edu/lm_collection.html