Although Reed College Library employs the best library staff ever (!), we also depend quite heavily on our awesome student employees. A group I am especially partial to is our Reference Assistants, specially trained juniors and seniors who work on the reference desk nights and weekends helping the Reed community do anything from printing a document to finding primary sources on the history of the american west. To help you all get to know these valued employees, we'll be posting a profile of a different reference assistant every week.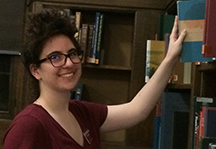 Name: Connor
Title: Lead Reference Assistant
Year: Senior
Major: American Studies-History
Favorite Library Resource: The A/C (especially in the Lobby and LL1 Southeast Stacks).
Favorite Place to Work in the Library: L2 Southeast Stacks. I enjoy the height.
Reason you wanted to be a reference assistant: I've worked in the Library since my first year at Reed, and I wanted to help make the Library feel accessible to all Reedies.
Hardest thing about research: Knowing when to stop.
Favorite thing about Reed: The American Studies Colloquium!
Cool thing you did this summer: Got a  Multnomah County Public Library Card. All Reed students are eligible! Ask the Ref Desk if you want help figuring out the application. [Note From Editor: Connor worked in the library all summer moving books, updating the Zotero Guide & beautifully writing the new blurbs on the main library page, among other things!]