Aichinese.com is a resource that Chinese instructors and students should not miss.  This is a great resource for listening and speaking exercises, and it also provides excellent content learning information. With a free account, you will be surprised how many materials are provided. Even as a native speaker, it will take me quite some time to go through all the materials. The registration process is very quick and easy.
When you log in to the page, go to the Lesson Center. You will see there are hot keywords listed as well as the grade level you can choose. For demonstration, I choose "travel" and "intermediate". The first a few listed as "PodCast ACP" are available by additional payment only, but all the rest listed as "Pronunciation Premium" are free. There are about five pages of these free resources, and there are 10 lessons under each name.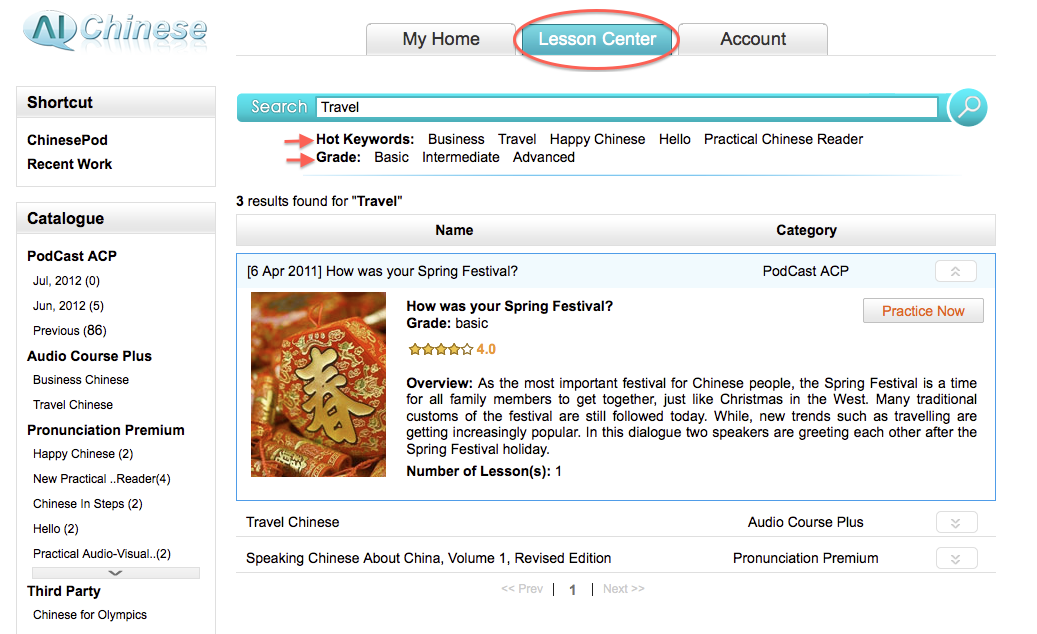 Now I randomly choose a lesson.  Because it is a relatively easy lesson, you can see I'm still at the level of learning words instead of sentences. The first word on the list is "hao", so I first click "play," listen to the pronunciation, and then click the red microphone button to speak.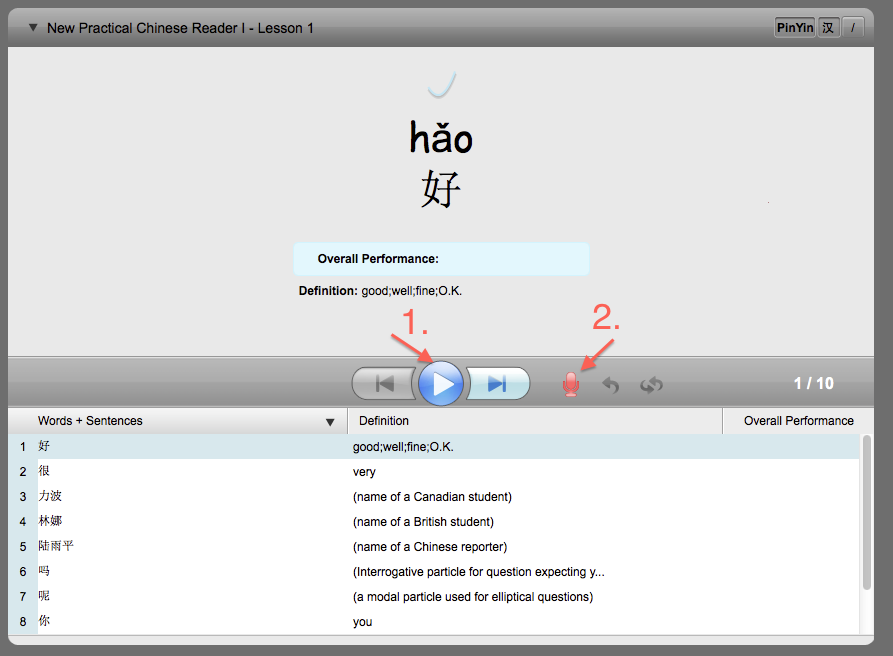 Then I see my performance for pronouncing "hao." If my the tone was incorrect, the tone mark will turn red. This also applies to sentences. You might see one or a few tone marks turning red in one sentence. The longer the sentence is, the more difficult it would be. The goal is to get all of them green. As a native speaker, I tried quite a few long sentences, and overall I think it is very accurate. One thing you might need to remind your students is, to speak loud and confidently. Sometimes when the computer couldn't hear you well, you might be evaluated.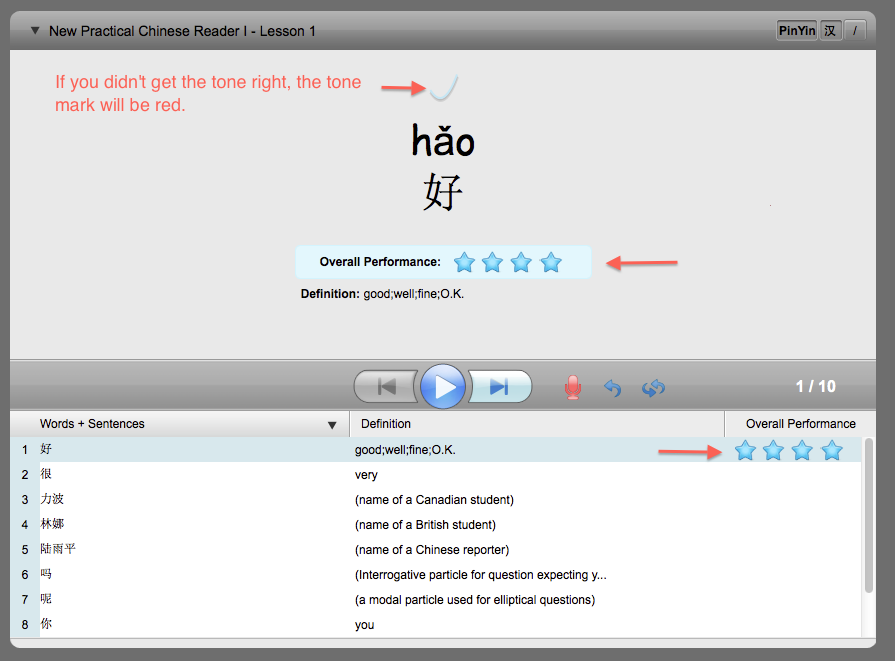 When reach the advanced level, you will see longer paragraphs like this, with pinyin for each character and English below the paragraph. After you listen to the native speaker, you can choose to learn or to speak by clicking on different tabs.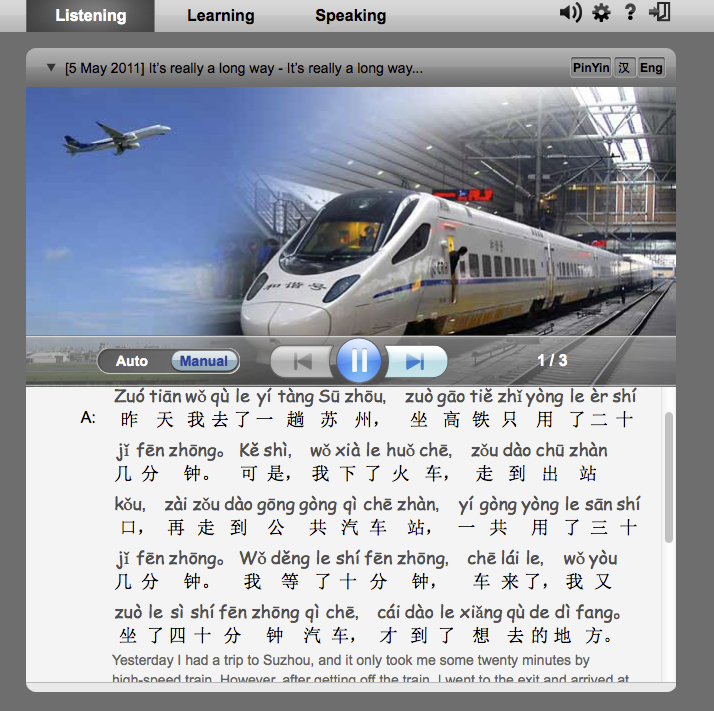 When choosing to learn, the program will talk you through the word use and it will give you a chance to practice. When you choose to speak, you will be provided with a list of words and sentences that are used in the paragraph. You will have another opportunity to practice, but without detailed explanation.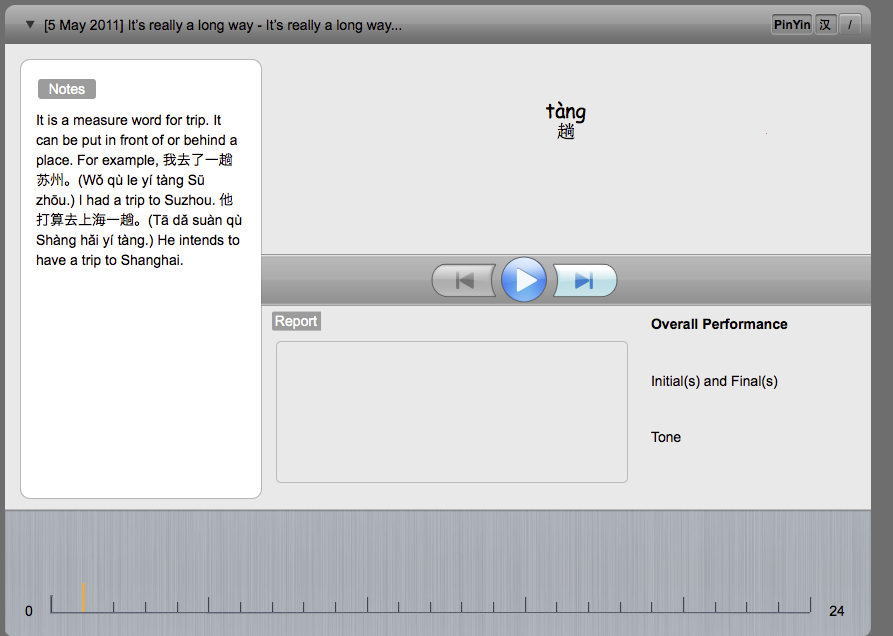 Aichinese could be used as a platform for in-class activities or for homework exercises. It is not only about listening and speaking, but also touches on different aspects of Chinese culture. Have fun with aichinese!