In this post I would like to introduce you to the PARC's computers and the software that runs on them. The software on our computers is performing arts focused. We do have some standard programs, like Microsoft Office and Express Scribe, but after that we're different then most labs on campus. The software in our lab primarily focuses on Theatre, Music, Dance and multi media presentations/installations with a nod to the visual arts.
When you first login to one of our computers you will notice something a little different. Within each folder you find the most used programs within those genres.
You'll see four folders in the Dock labeled Audio, Video, Move and Visual.

Here is an example of how the Audio folder pop up once you click on it.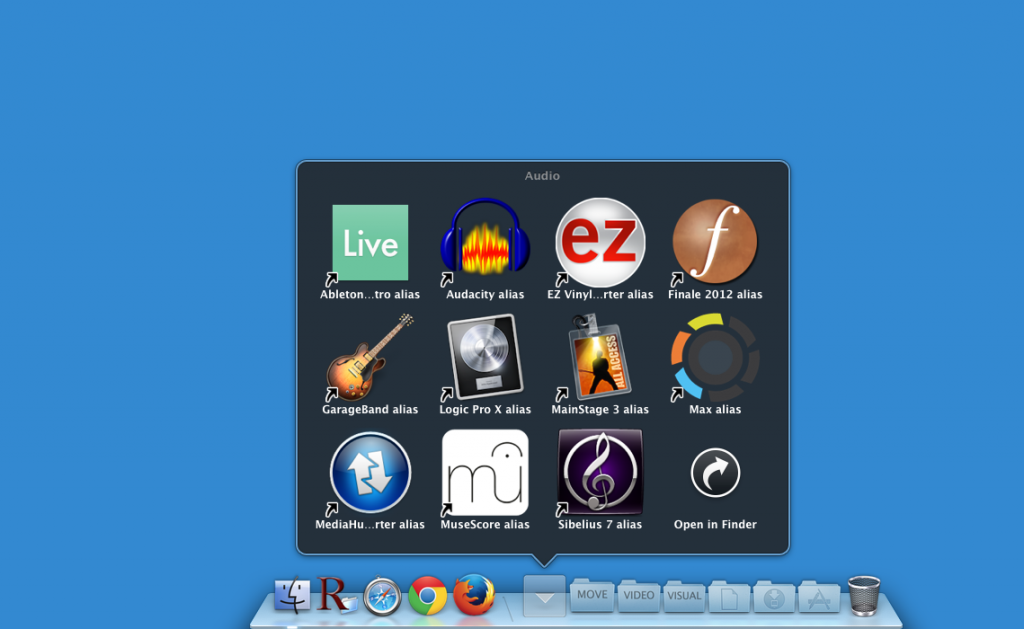 Each genre folder functions like this so you can quickly find a piece of software your looking for or discover something new in a genre you're interested in.
Below is a list of all of our software with links to each respective companies home page so you can get an idea of what they can do.  Come by the PARC and play with some of this software yourself or check out a laptop as the software resides on our check out laptops and make some art.  If you have any questions please stop by and ask a PARC Ranger (student workers) or me Joe Janiga, as we are here to help!
Don't forget the PARC is an space where all students are welcome to study all the time whether you are using our unique computer lab image or not.
 Audio
Finale 2012, Sibelius 7,  MuseScore, Logic Pro X, Ableton Live 9 (Intro), GarageBand, MainStage 3, Audacity, MH Audio Converter, Max/MSP/Jitter
Move (Performance/Theatre)
Isadora, QLab, DanceForms, Lifeforms, LabanWriter
Video
Final Cut Pro X, iMovie11, VLC, Quicktime X, MH Video Converter, Handbrake
 Visual
Adobe CS6, Paintbrush, Vectorworks Designer 2012 (includes Spotlight w/ Renderworks), Sketch Up, Lighwright 5
Cheers!
Joe Janiga
Instructional Technologist/Performing Arts