"Spiritual quests are serious business."
That, my friends, is just another thought. If we can't laugh at our meditation efforts, then we are, in effect, taking the position that a genuine look at life requires us to cut ourselves off from life, at least the parts that contain laughter and ridicule.
Can this possibly be true? Life is laughter. Life is serious. And life is sublimely ridiculous.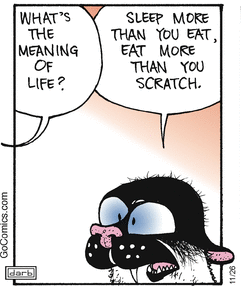 See the full panel at Get Fuzzy (Nov 26, 2013) on GoComics.