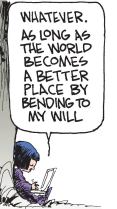 I can never help laughing, shaking my head in disbelief, at Danae (Non Sequitur, 16 May 2016). Her rage at the unbending world is so pure. Her commitment to 24/7 warfare is so unquenchable. What a child.
Of course, I have more than a little Danae in me – that's what makes her so familiar and so funny. I want the world to go my way. And, like Danae, rather than accept things as they are, I'll retreat into a fantasy land where I can try to hide from the world's problems.
It isn't unusual for meditators to seek out silence as a hiding place. How many times have I evaluated a meditation session and said, 'it didn't work for me'? But how could it ever be broken? Does reality ever fail to happen? Like it or not, this is my life.